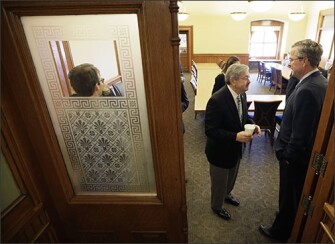 In his Condition of the State address this week, Gov. Terry Branstad threw his weight behind a proposal that would lead Iowa to become the latest state to require its middle and high schools to offer computer science to students.
State officials in the governor's office and the department of education have put forward a bill that would form a task force to create a plan for bringing the subject to all accredited schools by the 2018-2019 school year. The task force would present its recommendations by October 1 of this year.
The proposed legislation comes on the heels of recommendations from the governor's STEM advisory council, which suggested in June that computer coding classes be a mandatory prerequisite for graduation.
The department of education's proposal would not require students to take the courses to graduate, according to Branstad's special assistant on education Linda Fandel. But the task force is expected to recommend how to design standards so that computer science credits can be used to satisfy state math or science requirements.
In addition, the task force will look at the best way to offer a unit on coding to seventh and eighth graders, and how to tighten the definition for what constitutes a "high quality" computer science course, said the department of education's communications director, Staci Hupp.
Currently, there is broad variation among what the state's districts offer as computer science, including courses ranging from Interactive Media, to Telecommunications to Java Programming.
Though state officials were unsure about what aspects of computer science the task force would emphasize, Fandel said the proposal is mostly aimed at the state's 39 districts that don't offer anything in the field.
While the cost of studying the proposal's feasibility through a task force is negligible, some in the state are concerned about the pricetag for implementation.
Requiring all districts to offer rigorous computer science courses in middle and high schools is likely to require significant investments in ed tech and teacher training. In 2013, Iowa overhauled its education system, resulting in a sharp increase in spending, so the cost of such a proposal could be a sticking point for fiscally conscious state legislators like ranking member of the state's Senate education committee, Republican Amy Sinclair.
In an interview, Sinclair expressed support for creating the task force, but questioned whether too much emphasis is being placed on computer science over improving traditional skills like reading, writing and math.
Furthermore, Sinclair does not want to see an "unfunded mandate" that will further strain district budgets that are "already stretching at the seams."
Photo: Republican presidential candidate, former Florida Gov. Jeb Bush (right) talks with Iowa Gov. Terry Branstad (center), on Jan. 13, at the Statehouse in Des Moines. --Charlie Neibergall/AP
---
See also:
A version of this news article first appeared in the Digital Education blog.