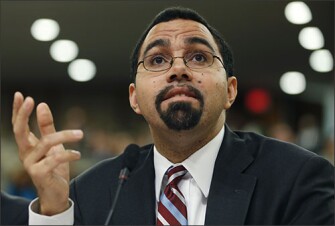 U.S. Secretary of Education John King told reporters Thursday that he wants to ensure a smooth transition for the incoming Donald Trump administration, which could start setting up shop at the department as early as next week.
And he said he thinks his successor, whoever it is, should take the department's civil rights mission to heart. Here's his full statement:
I think it's crucial that any secretary have a deep commitment to the role of public education in the long-term success of our economy and our democracy - both in public K-12 education and public higher education; have a good understanding of the diversity of providers in early learning, k-12 and higher education across those sectors; and have a strong commitment to the historical role of the Department in protecting students' civil rights. For any administration, regardless of party, those should be priorities for leadership.
It's unclear of how the next administration will proceed when it comes to the department's office for civil rights, which seeks to intervene when school districts that aren't meeting the needs of historically disadvantaged kids. Gerard Robinson, a fellow at the American Enterprise Institute told us that the office could have a less expansive role in a Trump administration than it has under President Barack Obama. (Robinson is a member of Trump's education transition team, but spoke only on his own behalf.)
State Education Commissioner John King Jr. testifies during a joint legislative budget hearing on education on Tuesday, Jan. 28, 2014, in Albany, N.Y. King said he would advocate for a $1.3 billion increase in education aid to help schools that lawmakers portrayed as increasingly stressed by aid cutbacks and educational mandates. (AP Photo/Mike Groll)