The literature on teacher professional development stresses a number of the same points time and again. To be effective, experts say, teacher learning should be closely integrated with curriculum and educators' actual work in the classroom. It should be continuous and sustained over long periods. It should focus on evidence of student progress. And it should foster collaboration among faculty members and incorporate teachers' own expertise.
Whether most real-life school PD programs meet those criteria is questionable at best, as the research also makes clear. But a number of initiatives have gained recognition for moving in the prescribed direction and illustrating some of the payoffs and challenges that can entail for schools. One viable example is the Literacy Collaborative, a coaching-based school-improvement model jointly run by the Ohio State and Lesley universities.
The Literacy Collaborative was started in 1993 by literacy-education scholars—and former teachers—Irene Fountas and Gay Su Pinnell. It currently operates in some 300 schools nationwide, offering separate instructional programs for primary, elementary, and middle school levels.
Pedagogically, the program has its roots in the work of Marie Clay, the founder of the Reading Recovery intervention program. Clay, a New Zealand-born developmental psychologist and education researcher, stressed the importance of closely analyzing and documenting students' individual progress in reading. In building on her approach, the Literacy Collaborative aims to give schools the expertise needed "to turn teachers into systematic observers of reading and writing behaviors," says Fountas, now the director of the Center for Reading Recovery & Literacy Collaborative at Lesley University. The program fosters "precision teaching," she adds.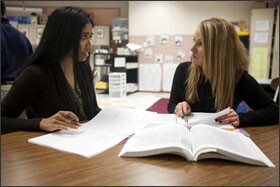 Framework-Driven
In recent years, the Literacy Collaborative has acquired an impressive research profile. Most prominently, a recently published longitudinal study by researchers at Stanford University found that the program boosted primary-grade students' reading skills by an average of 32 percent over three years. Other studies have tied the Literacy Collaborative to standardized test score gains (including among English-language learners), advances in student writing skills, improvements in instructional quality, and positive changes in both teachers' and students' perspectives on literacy instruction. (Despite its record, the program is not included in the U.S. Department of Education's What Works Clearinghouse. According to Fountas, that's because it has not had the required number of randomized control-group studies.)
As an instructional program, the Literacy Collaborative is oriented around intensive lessons and purposeful teacher-student interactions. Its framework requires schools to schedule daily 2½ hour literacy blocks, with the time divided between word-study instruction and reading and writing workshops. Employing both whole-class and small-group instruction, teachers engage students in a selection of specified activities, including interactive read-alouds, shared-reading experiences, targeted vocabulary and phonics lessons, guided reading and writing exercises, and independent work.
The program also places a strong emphasis on ongoing in-class assessment. To monitor students' progress in reading, Literacy Collaborative teachers regularly—as often as daily—take "running records," in which they listen to students read short passages and document where they need improvement. In addition, teachers use a leveled-text system to benchmark students' development against expectations and norms. Both methods are "directly linked to instruction," Fountas emphasizes.
Building In-School Capacity
But where the Literacy Collaborative really differs from other school-improvement programs—and where it harbors lessons on PD design—is in its coaching model. All schools using the Literacy Collaborative are required to have an in-school literacy coach—and the title is not just ceremonial. Coaches, who are generally given reduced teaching loads, receive more than a year of graduate-level training from the Literacy Collaborative staff before the program is even implemented in their schools. That includes a four-week summer institute and some 300 hours of blended face-to-face and online learning. Once the program is in place in classrooms, coaches continue to receive ongoing support from Literacy Collaborative liaisons, including regularly scheduled site visits and training sessions.
The coaches, in turn, provide continuous training on the Literacy Collaborative framework to their fellow classroom teachers. They facilitate twice-monthly PD sessions, observe classroom lessons, and meet with teachers one-on-one to refine their practice. According to the Literacy Collaborative's documentation, teachers are required to receive a total of 60 hours of outside-of-class professional development from their coaches during the first two years of implementation and 10 hours in each year thereafter.
Most PD in schools is based on the visiting "consultant model," Fountas observes. "We do the opposite. We try to build high-level capacity within the school itself."
Educators involved in the Literacy Collaborative program say that emphasis on developing in-school expertise helps foster instructional coherence and focus.
"Before we'd just have someone come in and do a workshop and then leave," says Karen Rood, the literacy coordinator at Caryl E. Adams Primary School in Whitney Point, N.Y, which has been using the Literacy Collaborative model for three years. "Now I support our teachers in the classroom, so there's follow-up."
"People have become more purposeful about teaching reading and writing. Before, we were all over the board," she says.
Jodi Burroughs, the principal of Dr. Martin Luther King Elementary School in Atlantic City, N.J., says that the Literacy Collaborative's strength is that it facilitates "embedded PD"—that is, training that is integrated into teachers' daily instructional practice.
Burroughs' school has been using the Literacy Collaborative since 2004, and she herself was trained as a coach in a previous position. Most teachers, she notes, are distrustful of new programs, because they see so many come and go. But by fostering interaction and a sense of ownership among teachers, the Literacy Collaborative becomes part of a school's instructional culture. Teachers see that "this is not just a program—it's about working on best practices for teaching," she says.
'Contextual' Challenges
But if the Literacy Collaborative's interwoven training structure offers instructional rewards, it also poses unique implementation challenges.
For one thing, the program is highly demanding on teachers. "During the first year, teachers tended to be overwhelmed by all the new information, as we [coaches] were during the training," Rood recalls. Teachers and coaches, she suggests, need to be prepared to devote significant time and attention to reorganizing their classroom routines around the new framework.
Kate Rodriguez, who is in her second year as a literacy coach at Monhagen Middle School in Middletown, N.Y., notes that the program can also give rise to interpersonal challenges for coaches, who have to learn "to walk the fine line" between instructor and peer. Especially at the outset, she says, coaches can feel as though they are caught "in the middle" between being a supporter and an evaluator.
Burroughs, the Atlantic City principal, cautions that the Literacy Collaborative's approach may also clash with school cultural norms, particularly in places where decision-making is typically hierarchical. "This is the kind of change that is created from the bottom up," she emphasizes. "Teachers and coaches need to be supported. Principals need to create a culture where coaches' voices are heard."
That observation is not merely anecdotal. The Stanford evaluation of the Literacy Collaborative found that fidelity to the program's coaching model—and the resulting impact on student progress—varied widely among participating schools. The researchers attributed the variances to, among other "contextual conditions," differing levels of teacher and school commitment and "perceived leadership support." They also found that "more coaching occurred in schools where teachers reported greater control over school-wide decisions affecting their work."
Lastly, there is the issue of cost. The Literacy Collaborative exemplifies the reality that, despite the proliferation of free resources on the Internet, intensive PD isn't necessarily cheap. Schools pay approximately $25,000 over three years to implement the Literacy Collaborative, with most of that amount going toward the coach's training. Fountas notes, however, that the organization tries to find funders to provide scholarships for resource-strapped schools.
For Burroughs, whose school found grant funding to pay for the program, the price is worth it because students have shown solid improvement and it "is ultimately an investment in teaching."
Teachers seem to agree.
"I've been teaching reading for nine years," says Rodriguez. "This is the happiest I've been."
Rood is even more emphatic. "It literally changed my life," she says. Before her school started with the Literacy Collaborative and tapped her as a coach, she explains, she was on the verge of retiring from teaching. "But now I'm not looking at that any time soon."
A version of this article appeared in the March 01, 2012 edition of Teacher PD Sourcebook as Turning Teachers into Coaches