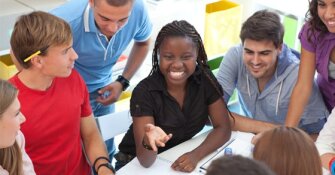 Schools must broaden their approach beyond a narrow focus on academic work, a group of nationally recognized scientists said in a consensus statement released Wednesday.
That's because students' social, emotional, and academic development are "deeply intertwined," and all are central to learning, says the brief.
"Students who have a sense of belonging and purpose, who can work well with classmates and peers to solve problems, who can plan and set goals, and who can persevere through challenges— in addition to being literate, numerate, and versed in scientific concepts and ideas—are more likely to maximize their opportunities and reach their full potential," the brief says.
It's the product of a year of work by 28 academic researchers who study issues like student motivation, school climate, and social-emotional learning. The panel, known as the council of distinguished scientists, was organized by the Aspen Institute's National Commission on Social, Emotional, and Academic Development, which has set out to bring together educators, scientists, policy makers, and philanthropists to clarify a vision for social-emotional learning in schools.
While many educators support a "whole child" approach that emphasizes areas beyond traditional academics, they can struggle to synthesize research that focuses on narrow but related ideas, like persistence and self-control. And that search for clarity hasn't been helped by a public debate about what to even call this work—social-emotional learning, soft skills, or something else.
So the commission brought together heavy hitters in the field— like Harvard University Professor Stephanie Jones, Yale Center for Emotional Intelligence Director Marc Brackett, and University of Pennsylvania Professor Angela Duckworth—to create a document that could set an agenda for future research and clarify what they agree on to this point.
As I wrote earlier this year, that work included one-on-one phone conversations between scientists and educators to discuss what is and isn't working in schools.
"This body of research demonstrates what parents have always known—the success of young people in school and beyond is inextricably linked to healthy social and emotional development, such as the ability to pay attention, understand and manage emotions, and work effectively in a team," Jones, who co-authored the report, said in a statement. "The evidence should move us beyond debate as to whether schools should address students' social and emotional learning to how schools can effectively integrate social, emotional, and academic development into their daily work."
Social, Emotional, and Academic Development
Beyond academic development, the skills students need to be successful in the classroom and in life can be grouped into three areas, the brief says:


"cognitive skills including executive functions such as working memory, attention control and flexibility, inhibition, and planning, as well as beliefs and attitudes that guide one's sense of self and approaches to learning and growth;
emotional competencies that enable one to cope with frustration, recognize and manage emotions, and understand others' emotions and perspectives; and
social and interpersonal skills that enable one to read social cues, navigate social situations, resolve interpersonal conflicts, cooperate with others and work effectively in a team, and demonstrate compassion and empathy toward others."
Among the other areas of agreement:


These skills can be taught and developed.
Effective social-emotional learning programs can improve teachers' effectiveness and well-being.
These programs must engage families and communities to affect children's development.
Effective implementation, training, and teacher support are necessary to make social-emotional learning work.
The brief emphasizes that schools can't effectively carry out social-emotional learning work alone. They need policies at the state and local level that support this broader vision of student success and resources to carry it out.
---
More reading on social-emotional learning:
Follow @evieblad on Twitter or subscribe to Rules for Engagement to get blog posts delivered directly to your inbox.
A version of this news article first appeared in the Rules for Engagement blog.