Last weekend I joined my relatives in a small municipal cemetery in rural Illinois to return an aunt and her husband to the plains from which they came. We stood chilled in the polar vortex and the early snowstorm it brought. Holy words were spoken, their son praised his parents, and their ashes were placed next to those of my mother and father.
Later we talked of this small clan, the Donnells, from which my mother is descended, and we recalled the Irish stonemason who fled the potato famine to join his brother on the prairie. Thomas did the kinds of things that immigrants always have done. He bootstrapped a living, started a business, married an extraordinary woman, and had a big family. His stone-cutting business thrived, and he branched out into making money the time-honored American way, by buying and selling property.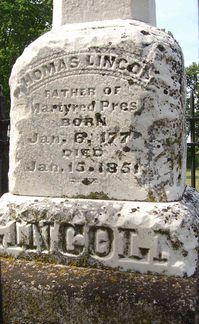 He contributed to his town of Mattoon, which grew in the 19th early 20th Century because two railroads crossed there. Churches, schools, and parks got built, and so did the cemetery with the family plot. He carved many of the stones that stand in graveyards for miles around, including the grave stone for Abraham Lincoln's father (pictured at left).
There were thousands, no millions, like him: people whom we now recognize as the ancestors who built modern America, which is why the controversy over today's immigrants is profound hypocrisy, or at least cultural amnesia.
The same politicians who are glowing over the election of a Republican African-American female, Mia Love from Utah, ignore her status as a reviled "anchor baby," a child whose birth in the U.S. legalized the status of her parents.
One group, in particular, has been both hostage and collateral damage in the immigration wars. These are the students called the Dreamers. They grew up in the U.S. sometimes unaware of their undocumented status, and as my colleague William Perez has written they declare, We Are Americans.
Normalization of their status has had widespread support. The first version of the Dream Act was introduced in Congress 13 years ago. It passed the House, but never made it past a Senate filibuster, and it is unlikely to rise in the upcoming Congress.
In the political churn that followed failure to pass immigration reform, 1.5 million persons have been deported or forced to return to Mexico during the Obama Administration. As Perez wrote last week, the students among them become Los Otros Dreamers, rejected because they are "too American" (many don't speak Spanish well) and discriminated against by the Mexican bureaucracy.
Dreamers have gotten some help. Two years ago the Deferred Action for Childhood Arrivals (DACA) policy provided temporary legal residence and work-permits to more than 400,000 high school and college students, college graduates, and graduate students pursuing Masters, Doctorates, and other professional degrees nationwide. And California allows DACA-covered college graduates to apply for professional licenses.
But states and executive orders can only do so much. Presidential orders can lift the threat of immediate deportation, but they do not create a path to citizenship, which is the key to deep American roots. Only Congress can.
The upcoming Congress will, again, likely ignore these kids, but it will do so at its peril. As Cathleen Decker wrote in the Los Angeles Times, last week, political activism on the heels of Republican anti-immigrant measures in the 1980s changed the political makeup of California. The state, which had only once voted for a Democratic presidential candidate in the 44 years from Harry Truman to Bill Clinton, is now Deep Blue. Nevada, Texas, Illinois, and Florida could follow.
When Thomas Donnell arrived in the U.S., the Irish were called many things, but "illegal" wasn't one of them. Unlike today, where there are an estimated are 50,000 Irish here illegally, there were no visas to overstay, no Green Cards. There was bias, however, and the notion that the wave of immigrants was going to irrevocably change America. It did, and I'm glad.
His children and their offspring became farmers, teachers, diplomats, soldiers, business people, ministers, and professors. Republicans and Democrats, some prospered, some lived at the economic margins. All were real Americans.
So, when I give thanks on Thursday, these kids will be on my list. And I hope that when their kin gather in a graveyard a century from now they—like the offspring of Thomas Donnell—will talk about what their American great grandparents accomplished.
The opinions expressed in On California are strictly those of the author(s) and do not reflect the opinions or endorsement of Editorial Projects in Education, or any of its publications.