Here's a simple equation I'd like you to ponder ...
If professional development is supposed to lead to better pedagogy that will improve student learning AND we are all in agreement that modeling behaviors is the best way to show people how to do something, THEN why not ensure all professional learning opportunities exhibit the qualities we want classroom teachers to have?
Too often we treat professional learning differently than we treat student learning.
But isn't it the same thing?
What works in the classroom also works for teacher learners and should be modeled and used as widely as the practices educators are expected to use with their students.
How many readers have sat through useless PD sessions where school administration talk at the full staff about issues that only impact about 1/3 of the faculty? (Wait, don't answer that.)
Educators are routinely "punished" (like students) for matters that have nothing to do with them or are re-instructed on topics that they may have already mastered or understand fully.
Why not differentiate professional development so that all learners get what they WANT and NEED?
Doesn't seem so hard to do. After all, each of us teachers are expected to do it every day with 30+ students in our spaces. (Yes, I'm being sarcastic... it is hard, but it's worth it and learners get so much more out of their educational experiences when they are relevant).
Educators have been told to move away from lecture style classrooms and use the more productive workshop model to encourage more doing rather than just listening which allows for different modes of learning at different times.
Professional learning time can no longer be spent like faculty meetings, meeting the needs of few and turning off many.
Since the time is often mandated, why not make it effective?
As it stands right now, here are some of the challenges that schools face with providing good professional learning opportunities:


a culture of non-compliance and disinterest from a staff who has largely disengaged for an extended period of time. "I've been teaching for 15 years and I've seldom participated in positive learning experiences that enrich my practice. So why bother now?"
The time of day is often inhibiting as educators have just taught a full day of school and are tired, or emotional or burned out.
money and lack of resources
poor leadership
a lack of understanding of what teachers and faculty want and need and no effort to figure it out
district-wide initiatives that have been instituted and are implemented wholesale without the needs of the school at the helm
If we want to change the culture of these learning opportunities and in turn shift the culture of learning in our schools, consider the following: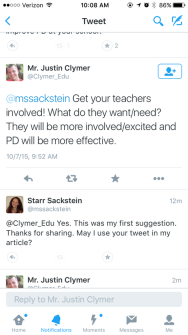 Set goals that are in line with staff's and students' needs—you can do this by polling the staff about their needs, analyzing those needs and then providing opportunities that support those needs. There may be time to offer options based on goals set from observations.
Have a committee that staff can volunteer to be on, so that teacher voice is a part of the planning.
Be organized. If a calendar of PD can be provided ahead of time, this shows that thought went into the choices.
Don't force the whole staff to learn the same thing at the same time. Allow for choice wherever possible.
Invite teacher leaders to present at meetings or smaller break out sessions to share best practices for those who want that—ou don't need to go out and spend a lot of money on consultants when you have talent among your staff. Try out an edcamp style professional learning opportunity where folks sign up on the day and lead break out sessions.
If something can be done in an email or on social media, don't waste people's time. As an educator, time is the most precious commodity we have and the lack of it often tries our patience. Social media like Twitter can be a great way of holding PD sessions in a convenient way and then resources can be back-channeled.
Offer a variety of kinds of PD that gets staff collaborating with colleagues they may not usually work with.
Foster staff camaraderie through team building activities from time to time because this is as important to a culture of learning as strong pedagogy.
Ensure variety of topics/delivery methods and the order in which they are presented
Always ask for feedback from the staff; how often do they use what they learned?
Allow for common planning time where staff can work with each other to make interdisciplinary learning experiences and discuss student progress. Consider allowing them to work together to understand what mastery looks like as a team.
Remember that learning should be fun. Make an effort to engage your learners in a way that will keep them interested. Read the room, if something isn't working, don't be afraid to abandon it.
Ask for suggestions. When all else fails and you want to change a culture, make it easy for people to tell you what they want directly or indirectly.
Just because we've grown up and work as professionals, doesn't mean our learning has ended. Each of us needs to see professional learning opportunities as a way to encourage continued growth as learners. How else can we model the behavior for our kids?
What was the best professional development you've ever participated in? What made it awesome? Please share.
The opinions expressed in Work in Progress are strictly those of the author(s) and do not reflect the opinions or endorsement of Editorial Projects in Education, or any of its publications.