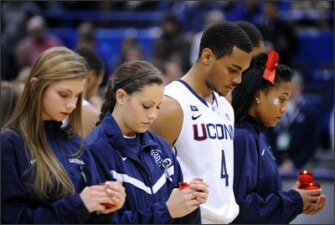 After the professional sports world paid tribute this past weekend to the victims of the Sandy Hook Elementary School tragedy in Newtown, Conn., members of two prominent college basketball programs held their own tributes yesterday.
Before their game on Monday night, men's basketball players from the University of Connecticut held a moment of silence for the 20 children and six school staff members who were killed at Sandy Hook Elementary on Dec. 14. Twenty-six students gathered at midcourt holding candles to represent the 26 victims of the attack.
Sandy Hook Elementary is located less than an hour away from the XL Center, the arena where UConn plays, according to Google directions.
Every UConn player wore a patch on his jersey with the initials "SH" (for Sandy Hook) during Monday's game, and will continue wearing those patches all season. The patches have a green background, black outline and white lettering, representative of Sandy Hook's school colors (green and white). The UConn women's team plans on adding the patches to their jerseys this season, too.
UConn sophomore Ryan Boatright wrote the initials "SH" on his left cheek before Monday night's game, according to the Associated Press. Meanwhile, UConn junior Shabazz Napier wrote "SH" on his left sock and the number "26" on his right, ESPN.com reports, and guard Louis Bell from Maryland-Eastern Shore wrote "S.H.E.S. Newtown, CT" and "12-14-12" on the back of each sneaker.
UConn coach Kevin Ollie said that the team plans to visit Newtown in the future, according to ESPN.com.
"We're going to go down there and have a good practice or whatever they want us to do," Ollie said. "We're going to be available for them and hopefully bring a smile or two to their faces."
The university also announced the creation of the Sandy Hook School Memorial Scholarship Fund on Monday for current students at Sandy Hook Elementary, along with the siblings of the students and dependents of the school staff who were killed during the attacks.
"It is not easy to conceive of the most heartfelt and respectful way to respond in the wake of such a shattering event," said UConn President Susan Herbst in a statement. "Yet Newtown is in our own state and many of our students and alumni have ties to those who are affected directly. The gift of higher education is a transformational one. We want the students of Sandy Hook to have the opportunity to study at a top public research university."
UConn women's basketball coach Geno Auriemma and his wife Kathy kicked the scholarship fund off with an $80,000 donation.
"Because UConn is so important to us, we decided to establish a scholarship and encourage other UConn alumni, friends, and fans around the world to invest in the future of the Sandy Hook survivors," Auriemma said in a statement.
Meanwhile, after winning his 900th game as a Division I head basketball coach on Monday (the third-most of any D-I coach in history), Syracuse University coach Jim Boeheim offered his thoughts on gun control in response to the Newtown tragedy.
"If we cannot get the people who represent us to do something about firearms, we are a sad, sad society," Boeheim said, according to the Associated Press. "If one person in this world, the NRA president, anybody, can tell me why we need assault weapons with 30 shots—this is our fault if we don't go out there and do something about this. If we can't get this thing done, I don't know what kind of country we have."
As
A version of this news article first appeared in the Schooled in Sports blog.