An assistant high school principal who was instrumental in turning around both academics and school culture at a Douglas County, Ga., high school was named the 2015 assistant principal of the year by the National Association of Secondary School Principals.
Jessica Ainsworth, an assistant principal at Lithia Springs High School, was lauded for using a federal school improvement grant to transform the high school's culture and climate, according to the NASSP, which hands out the annual award.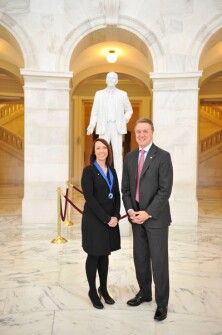 Ainsworth's main weapon in the turnaround was a policy called "The MANE Thing," an approach that established a clear academic vision for the school and incorporated input from community stakeholders, the organization said. "The MANE Thing" focused on classroom instruction, intervention programs, assessment and data analysis, attendance, behavior supervision, and parent engagement, the NASSP said.
According to the NASSP, reading proficiency rates increased across all subgroups under Ainsworth's tutelage. For example, reading proficiency rates for students with disabilities rose from 27 percent to 83 percent. Graduation, job placements, and college acceptance rates also improved, according to the organization.
The announcement was scheduled to be made at a surprise assembly at Lithia Springs High School on Monday.

Ainsworth was also named last year as the Georgia Assistant Principal of the Year for 2015.
"The assistant principal has many critical roles to play as a school leader," JoAnn Bartoletti, the NASSP executive director, said in the announcement.
"Jessica is a model of an excellent school leader who goes beyond the traditional roles of handling discipline and data and has become an expert in curriculum and instruction. NASSP is delighted to honor Jessica for the significant positive impact she has had on the students of Lithia Springs High School."
Garrick Askew, the principal of Lithia Springs High School, called Ainsworth "an outstanding assistant."
"Her dedication and professionalism are characteristics that set her apart from many," he said. "In addition, her depth of knowledge is an asset in her work with curriculum and instruction in the building. It has truly been a pleasure to help shape and witness her development over the past three years."
Ainsworth was chosen from a pool of three assistant principals, including Dyan Harrison from Gaithersburg High School in Gaithersburg, Md., and Sarah Longshore from Dutch Fork High School in Irmo, S.C.
The three initially received $500 after making it to the final round. As the winner, Ainsworth will get another $500, which could be applied to a school improvement project or a professional-development activity at the school, according to the NASSP.
The Assistant Principal of the Year award is an annual honor given by the National Association of Secondary School Principals. The association chooses finalists based on the organization's "Breaking Ranks Framework," a guide to school improvement that emphasizes collaborative leadership, curriculum, instruction and assessment, and personalization of the school environment, according to the organization.
Photo: Jessica Ainsworth receives congratulations from Sen. David Perdue (R-GA) during her April visit to Washington to discuss education policy with federal lawmakers. Photo by Dynamax Digital.
A version of this news article first appeared in the District Dossier blog.