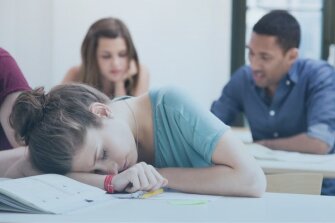 At first glance, it could seem that teenagers just really, really hate high school.
When researchers at the Yale Center for Emotional Intelligence and Yale Child Study Center asked more than 21,678 U.S. high school students to say how they typically felt at school, nearly 75 percent of their answers were negative. "Tired" topped the list, followed by "bored" and "stressed," with positive words like "happy" distantly following.
But bad memories tend to be stickier than good ones, so the researchers then took a different tack: At five high schools, they asked more than 470 students to report their feelings in the moment. Three times each school day over a four-week period, a student's phone would send him a short survey on his feelings, with an hour's grace time to complete it.
Here's where it gets interesting: Students still reported feeling boredom and stressed, but in the moment they reported feeling calm, happy, and relaxed even more often. What didn't change was the one "feeling" the researchers hadn't expected at all: Students overwhelmingly reported feeling tired. It was the only feeling consistently named by more than half of the students.
"Now, we know from other research that sometimes people confuse physical experiences, such as an experience of being tired, with emotional ones," said Zorana Ivcevic Pringle, a co-author of the study and director of the Creativity and Emotions Lab in the Yale Center for Emotional Intelligence. "Being tired is generally unpleasant and it is also what emotions scientists call a 'low activation state.' We have little energy and we're kind of lethargic, and that is very similar to the experience of being bored. ... And similarly for stress, when you are tired and you're trying to pay attention in class, it's just like having a weight around your waist and trying to run."
In fact, as of 2016 the National Sleep Foundation found that 87 percent of high school students in the United States sleep significantly less than the recommended 8 to 10 hours per night. And on the heels of the Yale study, another in the journal Molecular Psychiatry also found that even preteen students who got insufficient sleep had higher rates of anxiety, depression, impulsive behavior, and poor cognitive performance. In that study, researchers from the University of Warwick in the United Kingdom analyzed the sleep habits of 11,000 U.S. children ages 9 to 11 from the federal Adolescent Brain Cognitive Development study, finding those who had less than seven hours of sleep a night were more than 50 percent more likely to have those mental and cognitive problems.
While the study could not prove that being tired causes students' other negative emotions, "from our data, we can say that they are correlated. So if one is experiencing one of them [tiredness, boredom, and stress], they're more likely to experiencing another one," Ivcevic Pringle said. "I would suggest [school leaders] to consider a later start to the school day. That is a very obvious take-home message from this study."
Clarifying Emotions
School leaders should take students' positive emotions with a grain of salt, too, she said. Students reported feeling happy and calm—perhaps better than bored, but equally passive emotions, nonetheless.
"They are not telling us that they are feeling interested and curious and proud. Feeling interested is related to greater engagement at school, more attention and effort, and better learning," said Ivcevic Pringle. "Feeling happy or calm might not be those positive emotions which are going to be helpful for all the outcomes we are interested in."
The study also found that boys and girls tended to experience school differently. Girls reported more negative feelings than boys overall, and in the moment, girls were much more likely to say they were stressed. Yet here too, Ivcevic Pringle cautioned that school leaders need to think more deeply about what exactly is driving students' emotions in school, and how that might align with the school's culture more broadly.
For example, "Stress is not always negative. Oftentimes, we tend to use the word 'stress' to describe an unpleasant experience, but whether the outcomes of stress are going to be negative depends on how we interpret the source of stress." If adults in school help students to interpret stress as challenge and give them resources to cope with it, stress can be a positive motivator, she said, while students who interpret the source of stress as threatening and out of their control and capacity to deal with will experience negative effects.
"Emotions matter for our ability to focus, for our ability to make reasonable and good decisions, for the quality of our relationships, for learning, for achievement," Ivcevic Pringle said. "My take-home message to school leaders is to realize that emotions do matter and it's something to pay attention to, not to disregard or control by suppressing. ... How they model it is going to have substantial influence on the school climate and student outcomes too."
Image: Getty
---
Related:
Do you have a question about education research, or just want to know what the evidence says about that pesky instructional problem? Let me know! Drop me a line at ssparks@epe.org, or
A version of this news article first appeared in the Inside School Research blog.