It's been a day of full circle moments.
When I was a kid, my dad worked for a time in a building across the street from our state Capitol. I recall a few times when my sister and I went to his office after school but soon ended up across the street, racing up the steps to our Capitol's grand entrance (which sadly is no longer a usable entrance) and stopping to visit my friend's mom who was the "greeter" (in pre-Wal-Mart days) at those old wooden doors. We then had about an hour to spend watching the goings-on from the Senate and House Galleries, discovering the back hall stairs to the highest floor from which we could peer through the lattice to the floor of the rotunda three stories down, and generally being in awe of the bigness of it all - not just the building, but also everything that seemed to be happening there.
Today found me in our Capitol once again, this time in my role as President of Montana AGATE, advocating for gifted and talented funding. I love going to our Capitol, not just for the memories, not just because I love living in a representative democracy and having the freedom to be a part of the process, but also because on any given day at the Capitol, one can cross paths with Montanans of every walk of life: farmers and ranchers, hunters and fishermen, cowboys and Indians, children and retirees, environmentalists and miners, loggers and media, educators, Hutterites, lobbyists, and average Joe's. It's an energizing experience. I arrived extra early today so I'd have even a ghost of a chance of finding a parking spot. I was early enough, as a matter of fact, to witness the sunrise over the shoulder of the Capitol:
The event today was a public comment hearing with the Joint Appropriations Subcommittee on Education who last Thursday, by a 4-3 vote, eliminated state funding for the Gifted and Talented grants to schools (among other things, such as Adult Basic Education, some portion of Higher Education, Vocational Education, and Special Education maintenance of effort funds). These are difficult financial times. While Montana government is not in nearly as dire a financial situation as most other states are, things aren't wonderfully rosy either. It's tight, and our Montana Legislature is constitutionally obligated to create a budget that doesn't exceed expected revenues. Unfortunately, as so many of you can probably relate to on your own local, state, or national levels, gifted education ended up a target. I theorize that part of why this happens is that so many people (whether School Board members or Legislators or regular citizens) simply don't know about Gifted Education - and it's difficult for the small numbers of us out here to inform all of them about its importance. While I've put in effort over the years to educate my own Representative, I can't reach everyone, and she wasn't on the Committee. It also was not an expected move, hence our scramble since Thursday to get the word out about the hearing today.
(I arrived in plenty of time for the hearing, too, as evidenced by this photo of the empty chairs!)
The typical average of funds our state puts toward Gifted Education is $250,000 per year. These funds have been distributed to districts as grants, and while the final amount to the schools is not nearly all that we would need (a district the size of mine usually gets about $1200 or so from the state and puts up local dollars for anything and everything else), the state funds certainly do help in our efforts to do right by these kids. All grant funds received have to be locally-matched by the district, which helps to ensure a local commitment to the project. Some districts use the funds to provide much-needed professional development about gifted students and strategies schools can use to reach them, such as differentiation and acceleration. Other districts have used the funds to focus on identification of gifted Native American children, to place students into ability-level groupings and document the difference (i.e. improvement) in their achievement, to begin the process of getting a gifted program started in their school, to fund independent study options for gifted students in areas they otherwise wouldn't get to study (such as Mandarin Chinese), and to purchase curricular materials and supplies, among other things.
In our case for this year, all hope is not lost at this point. There are still about two months to go in this Legislative Session and the funds could be put back in at some point (especially if the amount of expected revenues increases, which is possible. Likely? I don't know. But possible, yes.) It's not a done deal. I was appreciative today that the members of the committee were so attentive as everyone spoke their piece. Three of the four members who had voted to eliminate these funds were present (why the fourth was absent, I have no idea), and they listened intently for the full three hours, making near-constant eye contact and focusing on each speaker and his/her message. It was refreshing, and a relief, that they weren't distracted by their thousand other duties during that time, nor were they pecking away on their blackberries. I truly felt heard and that they were receptive to and actually thinking about what we had to say. They didn't ask many questions, but my hunch is that was because they wanted everyone present (and there were a lot of us!) to be able to have an opportunity to speak on our topic. I think a lot of people in the packed room (not just the Legislators) learned a lot about Gifted Education today and its impact on the kids. I know I learned a lot about Adult Basic Education that I had never known, and found it fascinating!
Something that I struggle with in these situations is trying to figure out how to say it all in a limited time. I'm a big-picture thinker, I'm passionate about the topic, and I have a lot of knowledge and experience in this area. Boiling it down to its essence when the stakes are high is a wee bit anxiety-inducing. I needn't have worried, though. Between the 20-25 of us (I should've kept an exact tally) who spoke on behalf of Gifted Education today, it all ended up being said.
One, a girl about 11 years old, had the whole room eating out of the palm of her hand as she talked about feeling different and adjusting herself when around her age peers, yet relishing her time in her GT classes because that was when she could truly be herself. Another, a teen boy with Asperger's, found the remarkable courage to present his message to the overflowing room. A Native American father of a gifted girl said that he found out about the hearing yesterday, hopped in his car early this morning, and drove the approximately 200 miles to the meeting.
One mother began by handing each Legislator one of her gloves. She encouraged them to put them on and then asked, "How does it fit? Does it not fit because there's something wrong with your hand? Does it not fit because there's something wrong with my gloves? Certainly not." She then essentially explained that school isn't about forcing everyone into the same box, it's about finding the right fit for each learner. (I can't do her presentation justice in a paragraph. Suffice to say, it was really powerful!)
One regular classroom teacher talked about how his district's grant funds had been used for professional development about gifted students and differentiation strategies and how his eyes had been opened by the experience. His school instituted curricular and grouping changes as a result and he has changed the way he teaches his most advanced learners. He wondered out loud what his gifted students in previous years had been doing when he was spending a week teaching something he now knew they could master in a day.
The next speaker was a mother, a cancer patient with a pink head scarf, who said, "I know what those students were doing before he knew how to teach them at their faster pace. I know because I saw it with my own children. They were bored. They were daydreaming. They were losing their enthusiasm for school."
One teacher of gifted students talked about three of her former students who have graduated and gone on to do great things. One holds 22 patents, including a patent for a special coating on stents that reduces the body's desire to reject the device. "And the mom who was just in here with the pink head scarf?" she said. "She told me in the hall that she has one of those specially-coated stents in her body right now." (Doesn't that just give you chills?!?)
I told them that Gifted Education in Montana is a Constitutional issue. Our state Constitution calls for our students to receive a "quality education." A few years ago, our Supreme Court required our Legislature to actually define just what a "quality education" is, and gifted students and services for them are included in that definition. (Not to mention it is also mandated by our state law and accreditation standards.) I gave them specific information about how the money is distributed and what it's used for by districts. I referenced research studies, one showing stagnating growth for our nation's 90th percentile and above students and another showing multiple cumulative years' worth of repeating lessons on material already mastered.
It was a great and fascinating day, and I'm comfortable with the knowledge that everyone present was giving the process their best. Now to see what happens in the coming weeks...
A final full circle moment from the day... I saw a familiar face in the room, someone I coached in the 90's when she was on my Speech & Debate team. (I coached Speech & Debate for six years and loved it!) She was there on behalf of Higher Education and she really wowed the room with her presentation. I sat there in awe... A dozen or so years ago I was her Speech coach, and now I was witnessing the real-world fruition of all that work from years before. Even better still... I always coached my "Speechies" to "keep going, no matter what happens." Well, half-way through her speech today, the power went out in the entire Capitol! The room went dark except for a slight bluish glow from a skylight window. She looked the committee Chairman square in the eye and said, "I'm just going to keep going if that's okay," and on she went. She wasn't phased a bit! I couldn't help but grin :o)
Here are a few more photos from the day for those interested: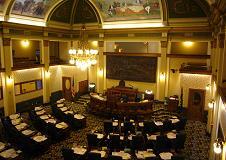 1. Senate Chamber
2. Statue of Montanan Jeannette Rankin, 1st woman in Congress
3. House Chamber - The huge painting at the front of the room is Montanan Charlie Russell's "Lewis and Clark Meeting the Flathead Indians at Ross's Hole."
The opinions expressed in Unwrapping the Gifted are strictly those of the author(s) and do not reflect the opinions or endorsement of Editorial Projects in Education, or any of its publications.