How the proposed cuts to career and technical education will impact our students, the working class, and our country.
Post 3 in the Winter is Coming: The Trump Budget Cut Series (Read part 1 and part 2 here).
This is a guest post from 2011 Idaho Teacher of the Year, Stefani Cook. Stefani is the Career and Technical Education Director and Business Education teacher at Rigby High School/Idaho Digital Learning Academy in Idaho Falls, Idaho.
Picture yourself walking down the halls of Rigby High School in rural Idaho. As you glance in the large classroom windows you encounter a CNA classroom that resembles a hospital room where students are learning to take a patient's vital signs—one of the first steps in preparation for clinical exams to earn certified nursing assistant certification. Next door is a functioning preschool completely led by high school students, a little further down the hall students are sewing, and in the next room students are participating in a culinary arts program and preparing for their Serv Safe Manager Certification for the restaurant industry.
Upstairs you view students working side-by-side with local businesses developing websites and graphically designing logos and other forms of advertising. The next door down you witness students preparing a sports marketing campaign for the high school basketball team, others writing a business plan for a future dream of owning a business, and still others participating in a stock market simulation and trading stocks real time. One more classroom door shows students utilizing coding skills designing working video games, and yet others testing to earn various Microsoft Office certifications to help secure future employment.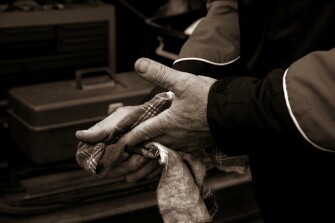 Pretty impressive? Our tour isn't done.
In the technical building, you witness students changing oil in a vehicle, others rebuilding an engine, and yet others changing the brakes on a community member's car. Next door to that students are participating in a robotics lesson and building various working mechanical bugs. In the next rooms students are welding, outside building bully barns, cultivating various plants in a greenhouse, learning about soils and plants, and preparing their own livestock for the county fair.
At Rigby High School we are very proud of the many opportunities given to students to explore various careers and earn multiple industry certifications, thus helping to secure gainful employment upon high school graduation. As the Career and Technical Education Director and Business Education teacher, I may be faced with eliminating a program due to President Trump's proposed budget cut to Career and Technical Education. All are thriving programs. How do we eliminate one or make cuts to others?
President Trump's budget proposal of a 15% cut to Perkins Grants, which are discretionary funds given to states for the purpose of supporting Career and Technical Education (CTE) programs, will have repercussions nationwide not just at Rigby High School. Career and Technical Education provides students with a connection between their curriculum and the workplace. Career and Technical Education programs help to prepare students for careers and grow the nation's workforce. Perkins funding accounts for the second largest funding source for CTE programs in my school district. What happens when this funding is decreased? To the classrooms described above and the students learning and growing in them, who are our future workforce?
I find the discrepancy between President Trump's campaign rhetoric and his budget actions disheartening. His stated dedication to the working class is definitely not mirrored by the proposed budget cuts to Career and Technical Education. In order to build a stronger economy and augment prosperity, shouldn't increasing the funding to programs such as Career and Technical Education be highly considered? Seeing is believing. I invite you to walk the halls of our school and see firsthand Career and Technical Education in action and at its best, and think about what the proposed cuts could do to these students. To our future workforce. The working class.
Photo: "Greasy Hands" by Flickr user Nadita Maria, licensed under Creative Commons.

The opinions expressed in An Edugeek's Guide to K-12 Practice and Policy are strictly those of the author(s) and do not reflect the opinions or endorsement of Editorial Projects in Education, or any of its publications.