For all the visual learners out there... ;o) Today's post is a gathering of various photos I have taken in recent weeks/months to give you a new look at some of the pieces involved in teaching gifted children.
The books being carried around by Binary, a 7th grader in 8th grade Science whose hobby is geology. The books other than the textbook are there because he loves them, not because he needs them for class:
The manuscript of a book written by one of my 7th graders for my Advanced Studies (independent project) class. It is ready for me to edit ;o)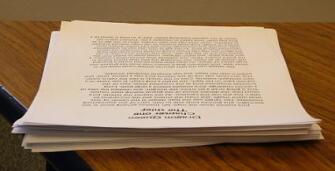 Chess time with some of my little ones:
The early stages of a team chess battle with some of my middle schoolers:
Watching "October Sky" with my 6th graders:
One of my 8th graders is learning C++ (a programming language) for his Advanced Studies project:
A 7th grader is learning Blender, a 3D animation program. This image shows a cloth wrapping itself around a box:
Two of my high school students, mapping out the iPhone app they're creating:
An 8th grader learning violin for Advanced Studies:
One of my 8th graders devised a scheme for removing the glass from a light bulb while preserving the inside filament arrangement. It was part of his display for "Edison Day" at our local museum this past weekend:
One of my 7th graders last year wrote a book and self-published it using Blurb. For her real-world audience, she gave a copy to the school library. This photo shows how many times it has been checked out by her peers. (The black box is simply where I blacked out her name for this photo. The squiggle at the bottom is a portion of her autograph):
Umbra, one of my high school students, thinks "the number line" should actually be a grid, with imaginary numbers at home on the y axis:
The opinions expressed in Unwrapping the Gifted are strictly those of the author(s) and do not reflect the opinions or endorsement of Editorial Projects in Education, or any of its publications.