Thousands of students are walking out of their schools to protest gun violence or participate in on-campus events to voice grief and outrage over the shooting that killed 17 students and educators exactly one month ago at Marjory Stoneman Douglas High School in Parkland, Fla.
Education Week reporters are posted in schools and communities around the U.S. to provide live coverage of the walkouts and school-based events throughout the day. Follow along in this space for the latest.
Photo: Students from Washington-area high schools rally in front of the White House March 14 to protest gun violence in the biggest demonstration yet of the student activism that has emerged in response to last month's massacre of 17 people at Florida's Marjory Stoneman Douglas High School.--Carolyn Kaster/AP
---
Parkland Students March and Mourn on Walkout Day
Photo: Jeremy Jacobs, 17, a senior at Marjory Stoneman Douglas, stops at a makeshift memorial for a slain student after walking out of school and making his way to Pine Trails Park in Parkland, Fla., on March 14. Hundreds of students at the school walked out of class in protest of gun violence on the one-month anniversary of the Parkland shooting. --Matias J. Ocner/Miami Herald via AP
---
'I Hope These Kids Have More Than Just Little Victories'
Philadelphia
Hours after the National School Walkout ended, Richard Voorhees walked through Philadelphia's tony Rittenhouse Square. Scrawled across the park's brick walkways were chalk messages left earlier by students at nearby Freire Charter School:
17 lives gone.
How many more people?
Every day is Parkland in Philly.
Put the guns down.
#ENOUGH
"I think these kids are the voice of reason in today's society," said Vorhees, 49, who works as a personal butler for a wealthy patron who lives nearby.
Marissa Ferguson, a 27-year old administrative coordinator at a local accounting firm, felt similarly.
"These kids are awesome," Ferguson said. "It's very cool to see young people so engaged."
And Bill Scott, a 61-year old painter, said the students' efforts—in Philadelphia, and beyond—stirred in him a sense of hope that can sometimes be hard to come by.
"I've been watching [gun violence] my whole life, since Martin Luther King, Jr. got shot. Sadly, not much has changed," Scott said.
"I hope these kids have more than just little victories." -- Benjamin Herold
Photo: Philadelphia students left behind chalk messages that passersby read after the nationwide student walkout had ended. -- Benjamin Herold/Education Week
---
The North Carolina Student Who Walked Out of His High School Alone
While many protests drew crowds, some students walked out of school alone. That was the case for Goldsboro, N.C., student Justin Blackman, who shared this video from outside of his school, winning praise from celebrities and Stoneman Douglas students on Twitter. -- Evie Blad
Wow I'm literally the only one #NationalSchoolWalkout pic.twitter.com/2F95qY2vTI

— Justin Blackman (@JustinIBlackman) March 14, 2018
---
'They Could Have Been Us,' Students Say in Grieving Parkland Victims
The walkouts unfolded across time zones, with students walking out at 10 a.m. local time, and official events ending in Alaska and Hawaii (4 and 6 hours behind the official start of the first walkouts, respectively). Students in Los Angeles began leaving classes at the appointed time and the Los Angeles Police Department had deployed additional units across the city after issuing a statement urging students to stay on their campuses.
Students at the city's Granada Hills Charter High School did so, but still found a way to get wider attention to their cause. Students at the school assembled on the football field and maneuvered into position to spell out E - N - O - U - G - H in dramatic fashion, a display that was captured in an aerial shot by a local TV station.
Students spelled out "#Enough" on the football field after walking out of class at Granada Hills Charter High School in Los Angeles County https://t.co/KMlM61p8YC pic.twitter.com/ExEsRolaqi

— CNN (@CNN) March 14, 2018
Elsewhere in Los Angeles, 8th grader Kristian Crisolo stood among classmates hugging and holding up signs demanding gun reform, the Associated Press reported. Kristian said he wanted to pay respects to the victims in Florida, but that he was also angry.
Thousands more students joined similar scenes in other states. They gathered on the steps of the statehouse building in Juneau, Alaska, outside a post office in Reno, Nevada, and in a school courtyard in Minneapolis.
High school senior Ann Snelgrove was among the hundreds in Reno who chanted, "We want peace," as they marched and delivered letters demanding action on gun violence to their members of Congress. "Can't you hear the children scream?" Snelgrove said in a speech outside the post office.
Freshman Lily Crano carried a sign that read, "They could have been us."
Echoing Snelgrove's speech, Crano told an AP reporter: "If they don't hear us now, they're deaf." -- Rachel Wegner
Photo (top): Students from Eagle Rock High School in Los Angeles observe a moment of silence on March 14 as they encircle chairs with the names of the victims of last month's shooting at Marjory Stoneman Douglas High School in Parkland, Fla. --Richard Vogel/AP
Photo (lower): Students in Juneau, Alaska, march toward the statehouse for a rally focused on school safety on March 14. --Becky Bohrer/AP
---
Chicago Students Walk Out in Silent Protest of Gun Violence
Photo: Carrying crosses emblazoned with photos and names of the city's victims of gun violence, high school senior D'Angelo McDade, front right, leads a march in Chicago's North Lawndale neighborhood during a walkout to protest gun violence, on March 14. --Martha Irvine/AP
---
I Came Because of 'What Happens in My Neighborhood Everyday'
Philadelphia
After taking part in a district-sanctioned walkout and memorial for victims of the Parkland school shooting, hundreds of students from high schools across Philadelphia descended on the city school system's headquarters for a rally organized largely by the Philadelphia Student Union, a nonprofit activist group.
"Your school gave you permission to walk out. This protest is your right," Julian Terrell, the executive director of the group, said through a megaphone outside the building.
The Student Union's demands from the group included shifting funding from school police officers to pay for more social workers, counselors, and mental-health support programs; expansion of "restorative justice" disciplinary practices; and protections for immigrant students, as well as restrictions on access to assault rifles and improved mental-health screening.
Fifteen-year-old Diego Zacarias, a sophomore at Academy at Palumbo High School in South Philadelphia, is not a member of the group, but said he supported its platform.
"We should invest in counselors, not police," said Zacarias, who wore a 'Books Not Bullets' pin to the rally. "Counselors are actually inside our schools, helping."
But for many of the students, the focus was squarely on gun control, especially as the assembled students marched to Philadelphia City Hall.
Raucous chants of "What do we want? GUN CONTROL! When do we want it? NOW!" echoed down Broad Street, the city's main thoroughfare.
Seventeen-year-old Aro Orr, a senior at selective Masterman High School, left no doubt who she thinks is responsible for the lack of gun-control legislation after school shootings.
"I think it's absolutely disgusting," Orr, holding a sign that read "Smash the NRA," said of the group's political clout.
And 17-year old Alayshia Bridges, a senior at South Philadelphia High, said she didn't think offering more counselors and other supports should preclude the presence of school police officers.
"I came out because of what happened in Florida, but also because of what happens in my neighborhood every day," Bridges said.
Then she joined her classmates in a chant of "Are we next? NO!" -- Benjamin Herold
Photo: Philadelphia high school student Ara Oro rallied against gun violence near City Hall March 14. -- Benjamin Herold/Education Week
---
For 17 Minutes, There Was No Sound
(UPDATED) At 10 a.m., students began filing out of class at Allegany High School in Cumberland, Md., and made their way to the gymnasium.
At center court were 17 desks, with the names, pictures, and biographies of the students and faculty members who were killed at Stoneman Douglas High School on Valentine's Day.
For the next 17 minutes, there was no sound.
"Dead silence," until a speaker walked around the desks, and read the names of the Parkland victims.
The students at Allegany High initially wanted to walk out of school for the National Student Walkout, but decided to stay on school grounds after hearing concerns from school administrators about their safety. In the conservative-leaning community, the event was focused less on gun control and more on school safety, perpetuating acts of kindness, and encouraging students to report anything they see or hear that might cause alarm.
"It was not a political movement in terms of the second amendment," said Delanie Blubaugh, one of the student organizers.
"We continued to say that no matter how you feel about the Second Amendment this is not about whether you think we should have guns or we shouldn't. This is about us taking back our education that we have a right to have. Students see their teachers more in the week than they do their own parents...In saying that we are taking back our education, we are almost taking back our homes. We are saying we are taking back our education, because we are tired of being afraid. And I think faculty is as well."
Allegany High students walked around the empty desks and read the names and ages of the Parkland victims, she said.
"It gave them the thought that this could be me, and this could be the person sitting next to me, it could be any of my friends," she said.
They handed out kindness bracelets as part of a Kindness Revolution project at the school, and signed up students for a forum on mental health, and a mental-health first aid course the district is running.
Of the nearly 700 students at the school, only about 100 did not participate in the event, and they spent the time in the library, principal Mike Calhoun said.
Two of their classmates died this school year, so the event was also reminder of how young lives can be cut short. Students used the time to reflect on the friends they had lost, Blubaugh said.
Calhoun said no one walked off campus, and that he was proud of the students. He said he hopes that there will be more acts of kindness emerging from the event.
By 10:45 a.m. students were back in class. -- Denisa R. Superville
---
Some Students Stage Counter-Protests in Favor of Arming Teachers; Second Amendment Rights
Photo: Hillcrest High School senior Ryler Hanosky, left, and junior Bret Gillespie, seen behind a flag associated with the alt-right, call for teachers to be armed during a counter-protest as their classmates participate in a walkout to protest gun violence on March 14 in Idaho Falls, Idaho. --John Roark/The Idaho Post-Register via AP
---
Betsy DeVos 'Gives A Lot of Credit' to Students Demanding Change
"The Secretary gives a lot of credit to the students who are raising their voices and demanding change," said Liz Hill, DeVos' spokeswoman. "She hears them, and their input will be valuable as she convenes the Federal Commission on School Safety and works to find solutions to keeping all students safe at school."
DeVos is reported to be having dinner with a survivor of the Parkland, Fla., shooting tonight. -- Alyson Klein
---
Indiana Principal Supports Students Who Walked Out and Those Who Stayed Behind
Indianapolis
Andrea Hunley, the principal at the Center for Inquiry 2, a K-8 school in downtown Indianapolis, said she was approached by some students who didn't want to participate in the school's walkout because "they felt strongly about their 2nd Amendment rights."
Hunley worked with those students to figure out an alternative they were happy with-- observing 17 minutes of silence in class-- that allowed them to honor the Parkland victims without taking part in the protest. In all, students in nine Indianapolis public schools held walkouts, all of which were student-led. -- Arianna Prothero
---
19 Years After Mass Shooting in Their School, Columbine High Students Protest Gun Violence
Photo: Students at Columbine High School head out of school during a student walkout to protest gun violence on March 14 in Littleton, Colo. More than 250 students took part in the short protest at Columbine, the scene of a mass school shooting on April 20,1999. --David Zalubowski/AP
---
School Administrators Block Students From Walking Out in Upstate New York District
While some school administrators had warned students that they could be suspended or sent to detention if they walked out of school as part of a national student protest on gun violence, administrators at an Upstate New York school appeared to take extreme measures to prevent students from walking out, according to Spectrum News. About 15 minutes before the scheduled walkout, two pickup trucks blocked the Schuylerville High School entrance, preventing anyone from entering and leaving the school without a valid reason, the station reported.
Schuylerville students also received notice that they are facing consequences if they participate in today's walkout. School officials are blocking the entrance to campus now. pic.twitter.com/t7gZ7jq4V3

— Lexi Nahl (@LexiNahlTV) March 14, 2018
A deputy from the Saratoga County sheriff's office and some members of the school faculty kept watch outside of the school, the station reported. Administrators cited safety concerns as the reason for their response to the planned walkout, the station reported. The district had already warned that students risked detention if they left campus without permission, Spectrum News reported. Students were allowed to go to the gym for a moment of silence to pay respects to the Parkland, Fla., shooting victims. There will also be a discussion on school safety and gun violence later in the day, according to reporter Matt Hunter. -- Denisa R. Superville
---
Student Reporters Interview Peers Who Rebuffed Walkout
Student journalists across the country are reporting live from walkouts at their schools. The Panther Press of Saegertown Junior Senior High School in Pennsylvania and the North Pointe of Grosse Pointe North High School in Michigan are two of the student publications covering the events on social media. At North Pointe, journalists talked with students who didn't participate and their reasons why.
Junior Rachel Sexton said she's not participating because administration was too involved. Listen to the full interview: pic.twitter.com/H0ZM9nUOrO

— Michal Ruprecht (@MichalRuprecht) March 14, 2018
Freshman Nick Salvador isn't pro-gun control and won't be walking out. Here's more from him: pic.twitter.com/So7OU2im7m

— Michal Ruprecht (@MichalRuprecht) March 14, 2018
"We think it's really important that we are the eyes and ears and connection for our community to know what's going on, and get a strong sense of student voice," Abbey Cadieux, one of the North Pointe's co-editors in chief and a senior, told Education Week.
Student reporters are covering the event on the publication's Twitter, Snapchat, and Instagram feeds, and they published a special print issue about students' perspectives on the walkout, gun control legislation, and school safety measures. "There's so much thoughtful dialogue that can effect real change in the real world," said Alex Harring, a senior, and the North Pointe's managing editor. "So it's our job to make sure that's heard." -- Sarah Schwartz
---
Students March to U.S. Capitol; Promise Continued Activism for Stricter Gun Laws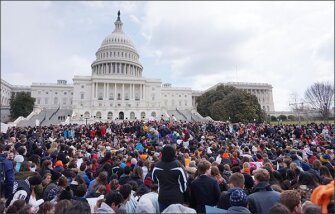 Photo: Students from Washington-area high schools fill the grounds at the U.S. Capitol on March 14 to protest gun violence and call for increased gun control legislation. Several members of Congress and their staff joined students in their protest. --Sasha Jones/Education Week
---
At High School Still Mourning Classmates Killed in December Shooting, Students Avoid Politics
In New Mexico's Aztec High School, students were preparing to gather for 21 minutes near a flagpole on campus to remember the 21 students who were recently killed in gun violence in U.S. schools: including two of their classmates who were gunned down at their school in December.
Aztec Principal Warman Hall said students at his school are still grieving from last December's shooting and wanted to honor school shooting victims in a way that was not political. Students will leave their classrooms at 10 a.m. and highlight 21 positive actions that they can take to improve the world around them. Those actions can include volunteering with a group or spending time with a student who may need a friend to talk to. The positive acts will be up to the students, he said. -- Denisa R. Superville
---
8th Graders Say: 'This Is What Democracy Looks Like'
Indianapolis
More than 100 middle school students from the Center for Inquiry 2 in downtown Indianapolis walked out to call for more gun restrictions. You could see students' breath as they chanted in 20-degree weather: "This is what democracy looks like." A few of the youngest students occasionally broke into a skip as the group marched for about 10 minutes to the American Legion Mall, a green space in the center of the city. The school's principal, some staff members, and parents accompanied the students as chaperones. Once there, students laid down as walkout organizer Carly Silkovsky, an 8th grader, read the names of the 17 victims of the Parkland, Fla., shooting. Carly said she attended her first protest outside a circus when she was 9 years old to draw attention to how elephants were mistreated.
"I feel that in 2018, a lot more people are just standing up," Carly said. "I feel a lot more connection to this shooting because it was high schoolers and I'm going into high school next year." -Arianna Prothero
Photo: Middle school students from Indianapolis participate in the nationwide student walkout to protest gun violence. -- Arianna Prothero/Education Week
---
An Issue That Will 'Destroy Our Lives If We Don't Make a Change'
About 200 students from Broomfield High School in Broomfield, Colo., marched for a mile from their school to City Hall after observing 17 minutes of silence in honor of the 17 students and staff killed at Marjory Stoneman Douglas High School last month.
After students returned to campus, some were expected to stay outside the high school to write letters to elected officials about their concerns about school safety and the types of gun laws they would like to see passed.
Broomfield students also specific requests for the Boulder Valley school district, said Riley Judd, 17, a junior who organized the walkout.
Among them: a full-time school resource officer and a trained mental health professional at every school, Judd said. She would also like teachers to receive mental health first aid training to augment the mental health support services the district already provides.
Judd said she organized the protests after seeing the videos of the Parkland shooting, which she said shocked her system.
"That visual image really resonated with me and inspired me to do something," she said. "We are all coming together on this, and although we may have different political views and differences that might separate us elsewhere...this is an issue that affects all of us, and it will continue to affect all of us, and destroy our lives if we don't make a change." -- Denisa R. Superville
---
There Have Been 8 School Shootings This Year That Killed or Injured People
Since Jan. 1, 21 people have died and 48 have been hurt in shootings on K-12 school property. In the latest incident, three students were injured at Seaside High School in Seaside, Calif., on March 13 when a teacher, who is also a reserve police officer, accidentally fired his gun in a classroom as he was teaching a gun safety lesson. Education Week is tracking school shootingsthat result in injury or death. -- Lesli A. Maxwell
---
At White House, Hundreds of Students Stood Stone Silent
Washington
Students from more than 25 area schools have gathered quietly in front of the White House in a stretch of silence that lasted 17 minutes in memory of the 17 students and educators who were killed in the shootings at Marjory Stoneman Douglas High School in Parkland, Fla., exactly a month ago.
Hundreds of students, flanked by some parents and other adults, held signs demanding more restrictions on guns and to do more to keep kids safe. Excited crowds of students walked to the White House from a nearby subway station, but then the mood was stoic and somber in front of the White House, and there was utter silence from 10:00-10:17. Some police rode the perimeter of the crowd on bicycles, and others stayed nearby in cruisers. Students said they want to be taken seriously, and as the newest generation of voters they will take action to demand change.
At the end of the memorial, students began moving to another location chanting: "We won't be silent, end gun violence." -- Sasha Jones
Photo: Students from area schools stage a silent protest in front of the White House on March 14 to commemorate the victims of last month's shooting in Parkland, Fla., and to push for increased gun control laws. --Sasha Jones/Education Week
---
Philly Students: 'We're Dying Too'
Philadelphia
Many teens here have expressed mixed feelingsabout today's National Student Walkout, saying they support its mission and want to honor the victims of recent mass shootings, but they're frustrated that it took a tragedy at a suburban, predominantly white school to mobilize action on an issue that affects them every day. But at Franklin Learning Center, a magnet high school about a mile north of City Hall, such ambivalence was mostly on the back burner Tuesday morning.
"We stand with the students of Stoneman Douglas," said 17-year old junior Luvonda Fuller, the lead organizer behind the school's walkout.
As hundreds of her classmates blocked off the street outside their school, Fuller—wearing a custom sweatshirt her uncle had made for her the night before—led chants of "enough is enough" and "age limits, background checks, accessories, teachers," a reference to the gun-control policies the students were out to support. The students expressed solidarity with their peers in Parkland, Fla., but some lamented that the issue has not drawn this level of attention in places that deal with violence on a regular basis.
"We should get just as much attention and support. We're dying too," said Devine Batt, a junior at Parkway Center City Middle College, who lost a cousin to gun violence. Principal Nicole Lee, in her first year at the helm of the school, said she personally felt the walkout was "very political," but she supported her students in participating, and had spent much of the morning and previous night communicating with Fuller about logistics.
"Go for it. I will support you," Lee said she told Fuller. "It's not our job to give students opinions." -- Benjamin Herold
photo: Senior Alicia Valez, with sign, and fellow students at Franklin Learning Center in Philadelphia, walked out of their high school to honor the victims of Parkland and call for stricter gun control measures. -- Benjamin Herold/Education Week
---
In Oklahoma High School, Students Broke Free of School-Sponsored Event to Stage Own Walkout
Norman High School senior Alicia Studley, 17, and Charles Prince, 16, a sophomore, call for increased gun control measures as they march along Main Street in Norman, Okla., on March 14. --Swikar Patel/Education Week
---
'Books Not Bullets'
Riverdale, Md.
In the Washington suburbs, hundreds of students walked out of Parkdale High School chanting "books not bullets," and "stop the violence." After streaming out of the building, students marched to the football field and walked once around the track before gathering to listen to student leaders call for an end to gun violence. At this 2,400-student high school, where most students are black and Latino, some carried Black Lives Matter signs. Standing in the bleachers and using a bullhorn, Amanya Paige, a student government representative at Parkdale who also is the student representative on the Prince George's County school board, told fellow students: "We are against gun violence. We will change our country." The students released 17 green and gold balloons in remembrance of the teenagers and educators killed in last month's shooting in Parkland, Fla. -- Lisa Stark
---
In Rural Kentucky High School, No One Walked Out
Carrollton, Ky.
At the iLEAD Academy in Carrollton, Ky., a small rural STEM school an hour's drive northeast of Louisville, students continued their studies on laptops. Not one student walked out. -- Catherine Gewertz
---
Amid a Media Blackout, Newtown High School Students Transmit Dispatches From Their Walkout
The student walkout at Newtown High School in Newtown, Conn., was shared on Twitter by the Junior Newtown Action Alliance, the youth chapter of the anti-gun violence group formed after the Sandy Hook Elementary School shooting. The group promised to cover Newtown High School's walkouts on Twitter after district interim superintendent Lorrie Rodrigue announced that outside media presence would not be welcome on school grounds during the demonstrations. -- Sarah Schwartz
#ENOUGH pic.twitter.com/G6JuRKL5SW

— Jr. Newtown Action Alliance (@Junior_NAA) March 14, 2018
---
17 Minutes of Walkout Underway to Honor Victims in Parkland, Fla., Shooting
Freshman Kennedi Lawson, 14, carries a sign as student walkout at Cherry Hill West High School in remembrance of those killed in the Parkland, Fla., shooting in Cherry Hill, N.J., on March 14. --David Maialetti /The Philadelphia Inquirer via AP
---
A Map of Nationwide Student Walkouts
NBC News has a detailed map of where walkout-related events are happening in every state across the country. You can select a state and find specific school's plans, along with links to schools' Instagram accounts.
---
Walkouts Kick Off Early on East Coast; Threats Derail Some Events
Students in some schools in the Eastern time zone started their walkout events early, with students in the Washington metro area making their way to the White House where they'll observe 17 minutes of silence starting at 10 a.m. But a New Jersey high school abruptly canceled its participation in the nationwide protest of gun violence amid rumors of threatened violence, the Associated Press reported. Students at Hackensack High School in Hackensack, N.J., had planned to take part in the event, Superintendent Rosemary Marks said. But after consultation with local police over the possible threats, the walkout was canceled. The school will instead share a student-led presentation in support of the students killed at the shooting last month in Parkland, Fla.
HAPPENING NOW: Hundreds of Montgomery Blair HS #students have a rolling police roadblock southbound Colesville Rd approaching #SilverSpring, avoid area #StudentsStandUp #StudentWalkout @nbcwashington #breakingnews #dctraffic pic.twitter.com/rWUKLf88kk

— Brad Freitas (@Chopper4Brad) March 14, 2018
A version of this news article first appeared in the District Dossier blog.