Parents in Louisiana now have a new tool to help them choose an early-childhood education center.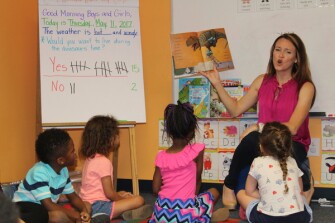 The state Department of Education released an interactive, online tool Tuesday known as the Louisiana School Finder. It's designed to help families find and evaluate both child-care centers and K-12 schools.
State Superintendent of Education John White said the tool is an important step in closing the gap between early-learning programs and K-12 education.
"It's time that we stop accepting the fragmentation of these programs and understand that they really are part of one comprehensive education system, and we should be reporting their results as such," said White.
The school finder will give parents access to early-childhood performance profiles for 1,500 publicly funded child-care centers, Head Start programs, and pre-K programs.
"It's our responsibility to give parents information as to the quality of services that the taxpayer is paying for," said White.
But he said it's also about helping the state's schools and early-childhood education centers to get better.
"Systems don't improve unless there is an awareness of where there are strengths and weaknesses, and a transparent outlining of the strengths and weaknesses within the system is a fundamental step toward improvement," said White.
The tool includes ratings for each center of excellent, proficient, approaching proficient, and unsatisfactory. If a center rates unsatisfactory twice, it becomes ineligible for public funding. Two percent of centers have earned the excellent rating, while 66 percent are rated proficient.
The ratings are based on the findings of trained observers who go into classrooms and watch teachers interact with students several times a year. They're looking for warm, friendly teachers and well-organized environments that promote learning and development.
The tool also provides parents with ratings on classroom climate, instructional quality, and curriculum along with information about teacher certification and compliance with child-safety regulations. Parents can also get practical information such as where the center is located, what its hours are, and how much it costs.
The state Department of Education produced this video to explain how the interactive tool works:
Photo: Students at Beary Cherry Tree, a daycare center in Metairie, Louisiana, listen to their teacher read a story. Courtesy Louisiana Department of Education
A version of this news article first appeared in the Early Years blog.