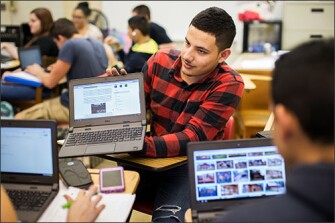 Cross-posted from the Inside School Research blog
By Sarah D. Sparks
After Congress showed no signs of greenlighting the White House's "Stronger Together" initiative to support better school integration, Secretary of Education John King earlier this month announced diversity as a priority for the department in the final round of the Investing in Education, or i3 program.
That call was included as one of five "absolute priorities" in the final competition in i3's development grants—which, at up to $3 million per award, comprise the smallest of three tiers of grants, requiring the least initial evidence. Yet the requests for applications for the two larger grant tiers, validation and scale-up, don't include diversifying schools as a priority.
So why is this the case? We don't know. We reached out to the Institute for Education Sciences, and while it confirmed that's how the grants break down with respect to making integration a priority, IES didn't give a reason.
Other priorities, including serving rural communities and implementing internationally benchmarked, college- and career-ready content standards and assessments are common to all three tiers of grants. In all three grants, the department also hopes to encourage those who have never won an i3 grant before to apply.
i3 is the only one of the Obama administration's stimulus-era competitive grant programs in education to be revived in the Every Student Succeeds Act, and this is the final round which will be chosen under its watch.
Photo: Central Surry High School junior Cesar Landeros, a takes part in group exercises in a math class. Landeros is part of a dual-enrollment program in North Carolina, funded by an i3 grant.
Source: Justin Cook/Redux for Education Week
---
Related:
---
Follow us on Twitter at @PoliticsK12.