President Donald Trump plans to end Deferred Action for Childhood Arrivals, an Obama-era program that gives protection to immigrants who came to the United States illegally as children, according to multiple media reports.
Trump could wait six months to formally dismantle the DACA program, allowing Congress time to find a legislative solution to address the status of the so-called Dreamers, the young undocumented people who benefit from the program. Politico first reported the news of Trump's plan to end the program.
It was not immediately clear what would happen to people who currently have work permits under the program, or whose permits expire between now and the end of March.
The White House is expected to make a formal announcement on the fate of DACA on Tuesday. On the campaign trail, Trump promised to repeal DACA—and he appears to have kept his word.
Created in 2012 by President Barack Obama, the program offers a two-year deportation stay to young undocumented immigrants who can prove they meet a number of criteria, including that they came to the U.S. before age 16, have lived here for at least five years continuously, attend or graduated from high school or college, and have no criminal convictions.
---
See also: Undocumented Teachers Shielded by DACA in Legal and Emotional Limbo
---
Trump had the right to alter or end DACA as he saw fit because the program was created through executive authority. His decision leaves an estimated 800,000 undocumented residents who have benefited from the program in limbo.
For many of them, life in the United States is all they know.
The National Immigration Law Center estimates that 65,000 undocumented youth graduate from high school each year.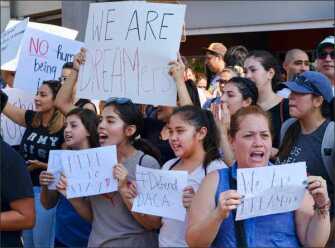 The fallout from Trump's decision could also affect the lives of children born here in the U.S. About 4 million students in the nation's public and private schools, roughly 7 percent of all K-12 students, are the children of undocumented immigrants, the Washington-based Pew Research Center estimates.
Any enforcement action taken against these parents could upend any semblance of stability for their children, many of whom were born in the United States. A 2015 study from the Urban Institute and Migration Policy Institute found that children with deported or detained immigrant parents face difficulty accessing early education, health care, and social services.
The threat of exposing the immigration status of a family member could also discourage some students from enrolling in school, advocates warn.
The decision to end DACA comes as the Trump administration faces a Sept. 5 deadline set by Republican attorneys general in nine states who threatened to sue the federal government if the president did not end the program.
Since the news broke of Trump's plan, attorneys general in New York and Washington state have announced plans to sue the Trump administration to keep DACA in place.
Related video:
Photo credits:
Top: Supporters of Deferred Action for Childhood Arrivals program, or DACA, demonstrate on Pennsylvania Avenue in front of the White House in Washington on Sept. 3. --Pablo Martinez Monsivais/AP
Bottom: Supporters of the Deferred Action for Childhood Arrivals, or DACA, join a Labor Day rally in downtown Los Angeles on Sept. 4. --Richard Vogel/AP
A version of this news article first appeared in the Learning the Language blog.