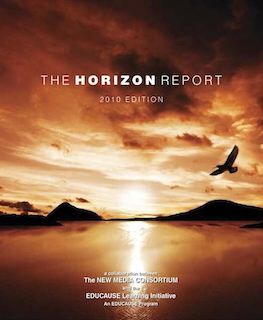 The 2010 edition of the Horizon Report, recently published by the New Media Consortium, is worth reading even though it focuses primarily on higher education. There are plenty of implications for the K-12 classroom in this report. In fact, last year, the New Media Consortium released a K-12 edition of the report, and there are plans to release another K-12 report later in the year, although the date has not yet been set.
After analyzing more than 115 technologies being used in higher education, the researchers narrowed their list of technologies to watch down to six that they believe will have the greatest impact on education. They are mobile computing, which includes smart phones, laptops, netbooks, and any other portable web-enabled devices; open content, which refers to educational materials and resources that are published and shared for free on the Internet; electronic book readers, such as the Amazon Kindle, the Sony Reader, and the Barnes and Noble Nook, as well as book reader apps for the iPhone and other smartphones; simple augmented reality, which occurs when the real world is combined with virtual information, like using a wireless device to detect your location or information about your location; gesture-based computing, which includes a new class of devices designed to be interacted with through natural gestures, like the iPhone and the Ninetendo Wii ; and visual data analysis, which blends "highly computational methods with sophisticated graphics engines" in order to see patterns and structure in visual presentations.
Both the mobile computing and open content technologies are in the one year or less adoption phase, meaning that they're already in use in many places, and experts anticipate that their popularity will continue to grow. Electronic book readers and simple augmented reality fall into the two-to-three-year adoption phase, and gesture-based computing and visual data analysis will potentially be tapped in four to five years, says the report.
In addition to emerging technologies, the report also identifies critical challenges to technology in education, including changes in the role of higher education, the lack of standard metrics to evaluate emerging technologies and their impact on learning, the absence of formal training for digital literacy in teacher education programs, and shrinking budgets for further research and evaluation.
Although the rate at which technology changes makes it difficult to predict which devices and ideas are going to catch on and which ones, however promising, will fade into the background, I always enjoy checking out what the Horizon report has to say. I'm looking forward to seeing what the K-12 edition says and how that compares to the higher education report.
What do you think? Are these plausible predictions? Is there anything that you would take away or add to the list?
A version of this news article first appeared in the Digital Education blog.