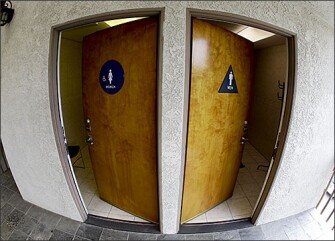 Thirteen states that have sued federal agencies over guidance on transgender students' rights in schools have asked a federal court to temporarily block the rules while their lawsuit is heard.
Eleven states, led by Texas, originally filed the lawsuit in May after the U.S. Departments of Justice and Education issued the guidance, which says that, under Title IX's protections against sex discrimination, schools must allow transgender students to use the restrooms and locker rooms that align with their gender identity, even if it differs from their biological sex. Two additional states have since joined the suit. Along with Texas, plaintiffs in the suit are Alabama, Arizona, Georgia, Kentucky, Louisiana, Maine, Mississippi, Oklahoma, Tennessee, Utah, West Virginia, and Wisconsin, along with a few local school districts.
In other areas of federal law, such as the Violence Against Women Act, sex and gender identity are mentioned as two discrete categories, so it's unreasonable to assume lawmakers intended for the mention of sex in Title IX to encompass both, the states' suit contends.
If a court grants a preliminary injunction, schools would not have to abide by the Obama administration's transgender-student guidance until a federal court can rule if it is a proper interpretation of Title IX.
"The nation's schools, and every place of employment, are now in the crosshairs of the Obama Administration, which maintains it will punish those who do not comply with its orders," Texas Attorney General Ken Paxton said in a statement. "Schools are facing the potential loss of funding for simply exercising the authority to implement the policies that best protect their students."
Photo: AP file.
---
Related reading on transgender students:
Follow @evieblad on Twitter or subscribe to Rules for Engagement to get blog posts delivered directly to your inbox.
A version of this news article first appeared in the Rules for Engagement blog.