By Sara Burd
This past July, I left a job that I loved, in a community where I had spent seven years doing incredible, supportive, and innovative work. The move brought me closer to my family and the schools that my daughter will start at in a few short years. It's also made me reflect on where I've come from and where I'm headed in a career in which I'm constantly focused on the fact that all learning truly is social and emotional.
Over the coming months in this space, I'll do my best to chronicle my experience as I grow into my new role as Director of Guidance and Social Emotional Learning, a newly created position for Arlington Public Schools just outside of Boston. But first, I want to explain how I got here.
After working as a social worker and school counselor in a number of urban schools focused on building trauma sensitive, restorative communities, I was eager to advocate for meeting the needs of all students by supporting counselors at the higher levels of administration. This brought me to Reading, Mass., a small suburban community north of Boston, where they were looking for a specialist to assist with high-need students who were experiencing intense levels of stress and anxiety.
I helped the district move towards a broad, whole child approach to the social, emotional, and academic needs of all their students, and became the Director of Social Emotional Learning. This meant making an important shift: we wanted to support not just students with high levels of need, but rather every single student enrolled from preschool through 12th grade.
In Reading, we placed a high priority on student health and well-being, which we saw as the foundation for all learning. All staff received training to feel confident and able to provide mental health first aid support to students in the classroom experiencing low-level, school-based stress and anxiety. When students needed additional levels of support, teachers would refer them to the right support staff in a multi-tiered system.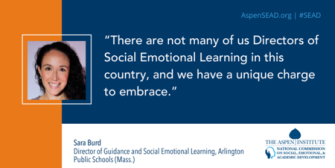 Moving away from an historical approach that identified individual students and provided one-on-one supports was no easy task. The unique combination of increasing numbers and severity of students in need along with decreasing resources of funding and time -- steeped in an educational culture of new mandates that were overwhelming our teachers -- woke the community up to a new approach. The district began to weave together threads that had previously been separate, seeking "twofers" and "threefers" that would accomplish more than one thing and create the most efficient and impactful results.
Successes came when staff and the community saw the tripled value of these integrated efforts, with decreases in referrals to student support staff and special education. Barriers emerged when there were concerns about such a large change and the amount of time needed to invest in the work, but it quickly became clear that in places where the majority of teachers embraced the work, students and educators alike flourished. After the third year of concerted efforts, the tipping point was reached and the whole community began to take up the mantle of supporting the whole child.
Now, just a few years later, I find myself once again as a new face, in a new role, in a new place. I'm remembering just how hard it is to be new and to learn all the small things of a new culture: where to park, who to call, which coffee place is preferred...even how to get post-its! I hope to share the view from this new seat. A familiar role, a familiar field, on very unfamiliar terrain.
More than ever, I expect my work in Arlington to focus on the "next level" of integrating social and emotional learning: developing these skills in our adults, and preparing them to foster these skills in their students. There are not many of us Directors of Social Emotional Learning in this country, and we have a unique charge to embrace. I intend to transparently share my personal journey in this role in hopes that other social and emotional leaders can find collegiality, support, or validation in these stories, and that teachers, administrators, researchers, or policy workers might learn what it is we actually do -- and join with us to support all young people.
Sara Fernandes Burd is the Director of Guidance and Social Emotional Learning, a newly created position for Arlington Public Schools just outside of Boston, MA. As an experienced guidance counselor, school social worker and SEL director, Sara brings to this position and community many years of experience in mental health, school counseling and SEL. Sara is also a clinical Registered Drama Therapist and enjoys the integration of the arts into her work with students, families and staff.

The opinions expressed in Learning Is Social & Emotional are strictly those of the author(s) and do not reflect the opinions or endorsement of Editorial Projects in Education, or any of its publications.