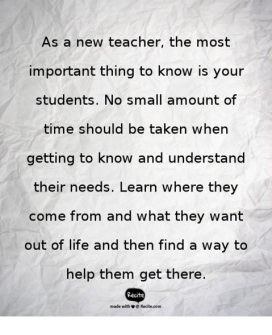 The building stood a fortress of knowledge locking up inside the possibilities and hopes of educated lives. Daunted by the day and the uncertainty that would unfold, I confidently strode up the walk into my first day as a teacher.
Because of my sudden shift in career, I hadn't planned on being a teacher and had only just begun my teacher certification courses in graduate school; I had no idea how to be a teacher. I only knew what I remembered as a student; how different could it be?
I was ushered inside to my first classroom, a 10th grade English class. I wasn't provided books yet or any advice, just a room number. Strutting into the foreign space, dressed to the nines in business attire, I wrote my name on the board and sat on the desk waiting for my students to arrive.
Sophomoric mistake number one was spending the first day of class telling the students too much about me and not really engaging them in a dialogue about them. What I learned quickly, though, was that they were far below grade level and I felt terribly under-qualified to help them.
My first attempt came in providing them notes on the board and lectures in class. It's how I was taught: students in rows, assigned seats, alphabetically. It all seemed very logical. I did this for a week or so, getting hazed by the students - They did all but tell me I was crazy and that none of this was working, but their actions and lack of engagement should have been my first clues.
I'd assign them reading for homework so we could have rich class discussions about Ray Bradbury or Greek mythology and no one would read. Frustrated and confused, I felt disenchanted but refused to give up. Something had to change.
Since I hadn't finished my teacher education program yet, my skills and toolkit were small. Fortunately, I had a great Teacher Center coach and a social studies teacher as a mentor; the former taught me different ways to teach, opened my mind and encouraged me to think big. The latter helped with classroom management and school politics, both necessary for my survival as a teacher. Without them I wouldn't have made it through the year.
Task number one was getting to know my students. Staying up all night planning lessons and finding what I thought were awesome resources wasn't enough. I wasn't thinking about who the resources were for. Again, my horrific tunnel vision kept me stymied and unsuccessful. Failing to consider my audience made my preparation futile and my hard work was for naught.
Starting from scratch seemed the only thing to do when I was seeing success with only 2% of my students who were auditory or straight-up visual learners. My lessons weren't dynamic enough - They didn't consider the students' needs and/or deficiencies or their interests, so with some encouragement from my coach and mentor, I had to stop and get a do over.
Surveys, getting to know you activities, conferences and mock writing assignments about themselves are what came next and it made a world of a difference. Even though the kids didn't have words to label how they learn or what they enjoyed in school, the information they provided me with was invaluable.
And then it all changed.
Rather than do what I felt was right for me, it was time to do what was right for each of them. Retooling my expectations and reconfiguring what a normal class period looked like, my lessons become more interactive and hands-on, projects more creative and I actively took notice of the emotional states of my students.
Maslow's Hierarchy of needs reminds us that students can't learn if their basic needs aren't met, so I needed to make sure they were nourished, clothed and safe before I could worry about getting them to read and write.
This part has become my strength as a teacher, my ability to sense a need for concern, to draw students out and with real care and empathy get them to trust me so that I can help. Once they knew I was really "in" - anything was possible.
Miracles didn't happen immediately. I still cried a lot that year, but my students became fiercely protective of me and I of them. Taking the time to know what each child needed, getting out of my own way, assuming they liked what I liked and learned as I learned was just plain useless.
It took work. Real tenacity. The fortitude of mind you see in movies like Dangerous Minds or Freedom Writers—although cliché, many of my current students have likened my earliest days of teaching to those they see in the movies. I was an affluent white woman from the suburbs in the inner city teaching all black kids, but we still found some common ground.
As a new teacher, the most important thing to know is your students. No small amount of time should be taken when getting to know and understand their needs. Learn where they come from and what they want out of life and then find a way to help them get there.
Understand that it won't happen overnight and it will try your patience and sometimes even contradict your learning, but your gut will always provide a compass for what should be done.
Fortunately, I learned these lessons early and it has provided the trajectory for my entire career.
How do you build relationships with students to better understand their learning needs? Please share
*excerpted from my book Teaching Mythology Exposed
The opinions expressed in Work in Progress are strictly those of the author(s) and do not reflect the opinions or endorsement of Editorial Projects in Education, or any of its publications.