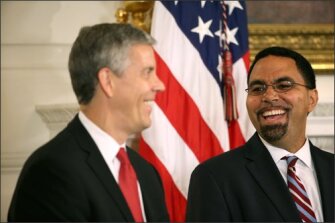 It's that time again! U.S. Secretary of Education John B. King Jr. will be embarking on the annual back-to-school bus tour. This is King's first, and probably last, stab at the annual event.
The theme this year is "Opportunity Across America" and the tour includes stops in the South, including Virginia, Mississippi, Louisiana, and Alabama. King will highlight recent initiatives, like Pell Grants for prisoners, and long-standing Obama administration priorities, like Investing in Innovation (now called Education Innovation and Research or EIR), and the now-defunct Race to the Top. (We tagged along for what turned out to be King's predecessor, Arne Duncan's, last bus tour.)
Here's the schedule, per the department's communication office:
EVENT 1
TOPIC: Rally to celebrate eight years of expanding opportunity across America and bus send-off
WHEN: Monday morning, Sept. 12
WHERE: Front Courtyard, Lyndon Baines Johnson Department of Education Building, 400 Maryland Ave., S.W., Washington, D.C.
EVENT 2
TOPIC Investing in Innovation (i3) and Computer Science for All
WHEN: Monday afternoon, Sept. 12
WHERE: Buford Middle School, 1000 Cherry Ave., Charlottesville, Va.
EVENT 3
TOPIC: ConnectED
WHEN Tuesday morning, Sept. 13
WHERE: Vance Middle School, 815 Edgemont Ave., Bristol, Tenn.
EVENT 4
TOPIC: America's College Promise
WHEN:Tuesday afternoon, Sept. 13
WHERE: Pellissippi State Community College, Knoxville, Tenn.
EVENT 5
TOPIC: Teacher Leadership and Lifting up Educators
WHEN: Tuesday afternoon, Sept. 13
WHERE: Battle Academy, 1601 Market St., Chattanooga, Tenn.
EVENT 6
TOPIC: Criminal Justice Reform and Second Chance Pell
WHEN: Wednesday morning, Sept. 14
WHERE: Limestone Correctional Facility, 28779 Nick Davis Rd., Harvest, Ala.
EVENT 7
TOPIC: College Scorecard and FAFSA
WHEN: Wednesday afternoon, Sept. 14
WHERE: Craigmont High School, 3333 Covington Pike, Memphis, Tennessee
EVENT 8
TOPIC: Preschool for All
WHEN: Thursday morning, Sept. 15
WHERE: Pike View Early Childhood Center, 441 McCain Blvd., North Little Rock, Ark.
EVENT 9
TOPIC: Promise Neighborhoods
WHEN: Thursday afternoon, Sept. 15
WHERE: Carver Elementary School, 404 Jefferson St., Indianola, Miss.
EVENT 10
TOPIC: Race to the Top and teacher leadership
WHEN: Thursday evening, Sept. 15
WHERE: Sallie Humble Elementary School, 3800 Westminster Ave., Monroe, La.
EVENT 11
TOPIC: Visit with Baton Rouge educators and students impacted by flooding
WHEN: Friday morning, Sept. 16
WHERE: University Terrace Elementary, 575 W Roosevelt St., Baton Rouge, La.
EVENT 12
TOPIC: College access, affordability, and completion event
WHEN: Friday morning, Sept. 16
WHERE: Louisiana State University, Baton Rouge, La.
EVENT 13
TOPIC: Turning around struggling schools
WHEN: Friday afternoon, Sept. 16
WHERE: Cohen College Prep, 3520 Dryades St., New Orleans, La.
Education Secretary Arne Duncan and John King, Jr. laugh in the State Dining Room of the White House in Washington, D.C.—Andrew Harnik/AP