The country is on track to have one of its worst flu seasons in years, with high rates of hospitalizations for influenza and doctors reporting higher-than-usual numbers of patients with flu-like symptoms, federal officials said Friday.
That won't be a surprise for many school administrators, who've seen soaring absences as the spread of the virus intensified. Some education leaders have even opted to close entire schools and districts to slow transmission and clean buildings.
School health advocates have long urged schools to take an active role in preventing and responding to acute illness, like influenza. Here's what schools need to know about combating the flu.
This year's flu strain is hard on children and the elderly.
The 2017-18 flu season has been marked with high levels of a flu strain called influenza A H3N2, which can lead to more severe illness than other varieties, especially among children and the elderly, officials from the Centers for Disease Control and Prevention said in a conference call with reporters.
Officials note there's no such thing as a "mild flu season," but this year's numbers indicate an especially high level of severity. There have been 37 pediatric deaths since Oct. 1, 2017, and officials project influenza-related deaths among children may reach levels comparable to the 2014-15 season when 141 children died. That season also saw a high spread of the H3N2 strain.
Midway through this year's flu season, federal data show higher than typical rates of outpatients seeing doctors with flu-like symptoms. You can use thisstate-by-state map to see where flu levels are especially high.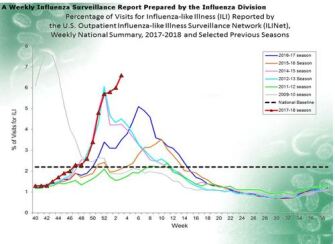 Prevention is key to slowing the spread of the flu.
In its guidance to schools on the flu, the CDC recommends prevention efforts including the use of educational posters and social media campaigns to urge proper hand washing to stop the spread of germs.
According to the organization, school flu prevention efforts should:
It's not too late to get a flu shot.
CDC officials continued to recommend flu vaccinations this week, even for people who've already been sick.
In the future, schools may want to expand their efforts to prevent the illness by offering flu shots on site. As I've reported before, some schools have taken an active role in illness prevention, even working with county health officials to host voluntary free flu vaccine clinics for students in response to high rates of seasonal absences. The CDC offers resources like information packets and consent forms for schools that host vaccination clinics. Such strategies may become more important as a growing number of states have opted to include chronic absenteeism as an indicator of school quality in their accountability systems.
Early data from this flu season show that about 4.9 percent of children who got the flu vaccine got it at school, but the majority went to doctor's offices.
Schools can also promote flu vaccines through informational posters and letters home to parents, says the Keep Flu Out of School campaign, a cooperative effort of several children's health organizations that provides resources to schools and parents.
Photo: Getty.
---
Related reading about the flu and school health:
Follow @evieblad on Twitter or subscribe to Rules for Engagement to get blog posts delivered directly to your inbox.
A version of this news article first appeared in the Rules for Engagement blog.