When Dessie Bowling first saw the doublewide trailer in the driveway of the Kentucky Valley Educational Cooperative, her first thought was, "Send it back; we're not paying for it."
The paint was peeling, wires were dangling from the ceiling, and the trailer was in two pieces.
But to Jeff Hawkins, the co-op's executive director, the derelict structure held endless possibilities for this region—once dependent on the coal industry—that many have written off as a place where future generations can prosper.
The EdWeek Leadership Symposium
Don't miss K-12 education's premier leadership event, taking place virtually May 9-11. Experts, practitioners, and researchers will discuss today's most pressing challenges and provide actionable insights and takeaways. Free for school and district leaders.
The list was long.
It could be an innovation lab where students from across southeastern Kentucky could experiment with the coding, robot-building, and drone-building skills they were learning at school; or a technology library where teachers and students would be able to check out drone kits and 3-D printers to hone in-demand technology skills. Students could work on virtual reality technology and animation for video games and movies. KVEC could rent out the studio to production companies that may be filming nearby and need equipment—and provide students to be interns.
"He has a vision—that's one of the things that makes him an exceptional leader," said Bowling, KVEC's associate director, who has worked with Hawkins for nearly 20 years.
Hawkins, a 58-year-old former English and drama teacher with a storyteller's timbre and a mass of white hair, doesn't simply see what is; he sees what can be.
"He believes deeply that education can be just as rich and powerful in Appalachia as it can be anywhere else," said Brigitte Blom Ramsey, the executive director of the Prichard Committee for Academic Excellence, a Lexington, Ky.-based nonpartisan advocacy group that focuses on improving education in the Bluegrass State.
But Hawkins is not just dreaming up big ideas, said Gene Wilhoit, a former education secretary in Kentucky.
"He is there holding hands, pushing, prodding, bringing in ideas as people attempt to improve learning programs," Wilhoit said. "He sees the vision and promise of what Appalachia can be, but he is also deeply immersed—his hands are also in the dirt."
That philosophy and style set Hawkins and the leadership team at the Kentucky Valley Educational Cooperative—a group of 22 rural school districts serving 50,000 students and 3,000 educators—apart from other K-12 consortia.
Transform Culture: Culture is never stagnant, it must be continually crafted. View culture as an ecosystem where every person is a learner, every learner is a leader, and every leader is a maker.
Invest in People: Invest in growing talent in the adults who serve learners and the community. Talent attracts talent, and when intentionally supported, expands individually and collectively.
Be Relentless. Be Fearless: Establish a shared vision that drives effort, compels purpose, and focuses on achieving clear outcomes. Understand that failing is often a critical part of learning and improving and should be embraced through grit and determination to succeed.
A Force for Creativity
Co-ops have traditionally helped districts leverage economies of scale to negotiate lower prices on insurance, transportation, and food services and to comply with mandates, especially special education requirements.
But under Hawkins and his team—a group with expertise in teaching, technology, school administration, and deep connections to Appalachia and its people—the co-op pivoted from a narrow bureaucratic function to teaching, learning, and leadership.
It has snagged top-notch awards since the 2000s, from Race to the Top and Investing in Innovation, or i3, grants during the Obama administration, to a multiyear grant from the Bill & Melinda Gates Foundation to focus on school leadership and instruction.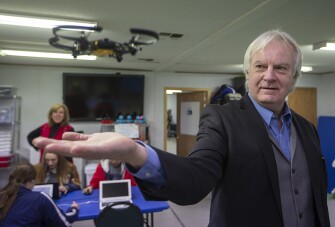 In 2017, Facebook founder Mark Zuckerberg visited the trailer-turned-virtual-reality-lab in Hazard during his Year of Travel challenge and spoke to students from several of the region's schools.
In Kentucky, KVEC is considered a leader in using micro-credentialing for professional development—a way for teachers to be recognized for mastering a concept or field instead of taking extra university courses. The region's use of microcredentialing has made KVEC a sought-after expert organization on the topic. And its annual Forging Innovation In Rural Education, or FIRE, summits—Ted-Talk-like events for educators and students—give principals, teachers, and students a chance to hear about innovations and best practices in other KVEC districts and showcase the region's strengths.
Teachers, principals, and students can also pitch ideas for small grants, which they can then use to pilot their initiatives. These minigrants—as small as $1,000 in some cases to $15,000 for those that address community problems—have allowed teachers and schools to supplement programs or start new ones. One teacher, for example, used a recent $1,000 grant to buy a prosthetic arm so students in a new phlebotomy program could practice drawing blood.
David Couch, Kentucky's K-12 chief information officer and an associate education commissioner, called KVEC a "shining star" and an example of how districts can make the best use of instructional technology.
Couch lauds KVEC and Hawkins not only for their use of technology to transform student learning in the classroom, but also for their ability to connect and support educators in districts in an area that's bigger than Connecticut. With the emphasis on technology and personalized learning, KVEC's students have won more state technology competitions than students from any other region in the state, Couch said.
Strong Team Approach
Hawkins balks at attention and credit. In his telling, KVEC has received state and national attention because of the co-ops's leadership team, the districts' superintendents, principals, teachers, and students.
The virtual-reality lab—now all spruced up with a wheelchair-accessible ramp and 12 cameras mounted overhead that capture students' movement for animation purposes—was the brainchild of KVEC's staff, and its transformation was the result of the staff's hands-on work and elbow grease, Hawkins said.
"I would never take or allow credit to be given to me for that," Hawkins said. "That VR lab, like everything we do here, is really a collective initiative."
That Hawkins would eschew attention is no surprise to Wilhoit. "He is very quick to credit others," Wilhoit said. "And that's nice and that's good. Yet, without Jeff right there spinning the wheel, it would be a different place."
The KVEC districts are nestled amid winding roads and deep "hollers," and they share borders with four states: North Carolina, Ohio, Tennessee, and West Virginia.
The region's fortune had always been tied to boom-and-bust extraction industries, like coal and timber, which once provided well-paying jobs for high school graduates.
But as those jobs dwindled, so, too, did the region's economy. The land is still dotted with a few working coal mines and businesses catering to the industry. But there are more defunct than active rail lines snaked across the mountains, a symbol of an area caught between the past and the future.
Like the rest of the state and many other parts of the country, eastern Kentucky is in the throes of the opioid epidemic. Unemployment is high. Poor health is a concern, too. In a study published in JAMA Internal Medicine in 2017, 8 of the 10 American counties with the largest drops in life expectancy between 1980 and 2014 were in Kentucky—five of them in counties whose school districts are part of KVEC. And the districts have been seeing declining enrollment as well.
Hawkins and his team don't deny the region's challenges. But they see an area teeming with resources and potential, especially in its students, educators, parents, and community members. In spite of pervasive poverty—nearly 97 percent of students in KVEC's districts qualify for federal free and reduced-priced meals—the region's graduation rate annually exceeds the state's.
And where others may see deficiencies, Hawkins and his team see opportunities.
Barren and strip-mined mountaintops can become learning spaces for students, as is happening in Hazard, where a drone port where students can work with engineers and others in the drone industry is planned.
Kudzu, an invasive plant found across much of the South, is being used by students in science experiments at Belfry High School to determine if it can be effectively used in cancer treatments and building construction.
The Holler, a website where educators, parents, and students in the region's vast and largely remote 22 districts can connect to share what's happening in schools, student projects, and innovation in the region.
Student-built tiny houses are being considered for use as part of a transitional village for homeless students and for people easing out of drug-addiction recovery in Harlan County.
Rewriting the Appalachia Story
Couch, the assistant education commissioner, said Hawkins and his team are pushing back against the "woe is me" narrative foisted upon them by outsiders.
"Part of our focus continues to be how do we reframe the narrative about this region and about the schools in the region," Hawkins said. "Part of the struggle is that the perception about this place and these schools has been shaped by folks who are not from here. ... If we accept the story that someone else would say that people from Appalachia are toothless, and lazy, and malcontents, then that's on us.
"But if we reframe that story and say people from Appalachia are creative, they are persistent, they are hardworking, they have a sense of humor, they are able to take a bunch of disparate things and turn them into something wholly different for a good purpose, then that's the story I am about."
Shifting the story of Appalachia's people is a major motivating factor for Hawkins and one of the reasons he made the jump from working as a development officer for a Kentucky media company that produces stories on Appalachia, to an English and drama teacher. After the company received a grant to start storytelling and drama classes, Hawkins visited the now-closed Whitesburg High School to pilot the program.
"The first day I just fell in love with it," he said. "It was incredible to be able to connect with those young kids and get them to connect with the abilities they had."
Part of our focus continues to be how do we reframe the narrative about this region and about the schools in the region.
An Economic Agenda
When Hawkins first moved to KVEC in 2000 as the adult education director, the co-op had only seven member districts. Wilhoit said KVEC then wasn't an "entity that many looked to for guidance and support."
Hawkins and Bowling, the assistant executive director, who had also been a teacher, wanted to shift the focus to people rather than programs. They found that visiting schools and giving teachers feedback on what they were doing well, and connecting them with others who had mastered some of the same challenges, was much more impactful than conducting compliance-based visits and observations. Soon other teachers were inviting them to do the same in their classrooms.
"It became much more important for us that we work with principals, counselors, teachers, administrators, etcetera, to enhance their [abilities]," Hawkins said.
In recent years, the co-op has been working hard to marry new economic development for the region to what's happening in schools by including entrepreneurship in the curriculum, providing opportunities for students to develop business ideas, and, in some cases, giving them seed money to test those ideas in the real world.
A group of students, for example, is running a café, The 606 Coffee Shop, (606 is the area code) this semester in downtown Hazard in space donated by the owner of a clothing store. Last November, dozens of middle school students set up booths inside the Knott County Sportsplex to pitch business ideas to students from nearby Morehead State University.
One boy made and marketed biodegradable confetti, cut into the shape of pine cones and wrapped in little, gold mesh bags—an idea he conceived after rangers told his sister she couldn't use confetti at her wedding in a park because it was not biodegradable. A group of students pitched Fortnite lessons to take advantage of the video game's massive popularity but some of their peers' inability to master it. And two students started a business that combined a historical and ghost tour of the region.
The aim is to cultivate problem-solving and collaboration, alongside computer science, coding, robotics, and drones, that equip students with in-demand skills to chart a successful course after high school, Hawkins said.
Students, Hawkins said, should have the option to start their own businesses in the area or work remotely in jobs that do not require them to physically leave Appalachia. And the hope is that businesses will recognize that the region has a trained and skilled workforce they can tap into.
There are many challenges for KVEC's education and economic-development agenda, including attracting and keeping teachers in this remote area and convincing businesses that it makes economic sense to set up shop here. Students must also see post-high school opportunities.
Once they graduate from high school and head to college in Lexington or Louisville, few return because of the scarcity of jobs for college-educated adults.
KVEC is not saying that everyone should remain, but students should have that option, Hawkins said.
"We would like to create the capacity," he said, "for more of those students to be able to stay and do the work that they have a passion for should they choose to."
Coverage of leadership, summer learning, social and emotional learning, arts learning, and afterschool is supported in part by a grant from The Wallace Foundation, at www.wallacefoundation.org. Education Week retains sole editorial control over the content of this coverage.
A version of this article appeared in the February 20, 2019 edition of Education Week