William H. Johnson's tenure as superintendent of the Rockville Centre district in New York state has one obvious highlight: his 29 years on the job. But, in fact, Mr. Johnson says his philosophy for guiding the 3,600-student district on Long Island goes back even further, to his time growing up with a brother who was born with serious physical disabilities.
Mr. Johnson recalled that despite the stigma and other difficulties his brother faced, he eventually became an accepted member of his neighborhood and the school system, and went on to have a successful career.
"I truly believe that it is my job not to discover the limits of what a child can do, but actually to give them ways of breaking through those limits," said Mr. Johnson, who among other accolades during his career was named New York's superintendent of the year in 2005 and previously served as the president of the New York State Council of School Superintendents.
EdWeek's Leadership Symposium | Live in D.C.
Education Week's annual Leadership Symposium will be live and in-person in Washington, D.C. this spring! Join school and district leaders from across the nation for three days of empowering strategies, networking, and inspiration May 10-12, 2023.
That mindset is behind Mr. Johnson's initiatives to elevate learning standards and open access to rigorous courses to all students in Rockville Centre, beginning in 1995, when the district began a shift to require all 8th graders to take algebra.
Although the district began offering International Baccalaureate courses in 1981 through its gifted program, Mr. Johnson pushed for the policy change to have all high school students take IB coursework in 2011.
Don't Set Limits: Give every student the opportunity to become something wonderful. Everybody has that potential.
Set Goals; Use Data: Examine transcripts of students who either achieved or did not, and then walk back through the system to examine what decisions were made and at what grade level. Ask what you could have done differently.
Be Humble: Humility and learning are so compatible. You have to learn from your experience. Surround yourself with people who are better and smarter than you are.
It can also be seen in Mr. Johnson's decision nearly 25 years ago to end the district's five academic tracks. Those tracks were special education, non-Regents, Regents, accelerated, and honors.
"What's wonderful is that he's always got the plan in place," said Liz Dion, who has served as the president of the district's board of education for five of her six years on the board. "He's never going to come to us and say, 'Let's just do this and see how it goes.' The support was put in place to make it very successful."
Demonstrating With Data
The plan that the district used, Mr. Johnson said, was based on years of its own research that began in the late 1980s and was based on individual students.
Mr. Johnson, who is 70, said that as he sought ways to expand opportunities for all students, he and other district leaders discovered that students' ability to succeed in calculus courses was strongly linked to whether they had successfully completed an algebra course in the 8th grade. The district then embarked on revisiting students' entire academic trajectories.
Administrators examined the transcripts of students who did or did not reach that level of coursework in math to see where the two groups diverged in earlier grades. District leaders also consulted teachers and guidance counselors about the factors that led students to either be placed or not placed in advanced math in the 7th and 8th grades. In the end, detailed profiles of individual students emerged and helped district officials understand how best to prepare them for more challenging coursework before high school.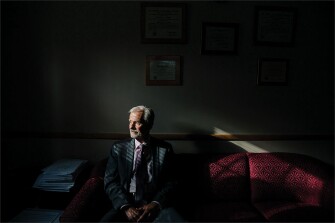 "I have always been a very, very data-oriented person. I have the data to demonstrate that a course of action that has been taken in this school system works," Mr. Johnson said, citing the 97 percent passing rate for Rockville Centre's 8th graders on the state's previous algebra exam.
But Mr. Johnson also had to convince the district and the broader community that this fundamental change was the right one.
He said the hardest group to convince was the math teachers themselves.
(Two years ago, the state shifted to tests aligned to the Common Core State Standards. Mr. Johnson said that he supports the standards themselves, but opposes the state's exams that are aligned to the standards.)
Art of Persuasion
Marianne Mancusi was one such initial skeptic. A teacher at Rockville Centre's South Side Middle School when the shift in math instruction began, Ms. Mancusi said she and other math instructors thought it would be "difficult to make that switch." She disliked the idea of no longer teaching Algebra 1 as an advanced class.
What changed her mind, she said, was Mr. Johnson's willingness to provide all the support that teachers sought in order to make the necessary changes in curriculum and elsewhere.
Small support classes of about eight students each were created. Homeroom classes were turned into planning sessions for math teachers. And more math instructors were hired.
"Bill Johnson has always been supportive of teachers and the needs of teachers," said Ms. Mancusi, who worked for the district as a teacher for three decades and is now an instructional consultant there. "He accepts the input from his staff."
In return, Mr. Johnson excels at identifying where staff members have the most talent and maximizing their abilities in the classroom, said Lorna Lewis, who worked in Rockville Centre under Mr. Johnson for several years and is now the superintendent of New York state's Old Bethpage district, which has 5,000 students.
For example, Ms. Lewis credits Mr. Johnson with allowing her to challenge the status quo when, as the head of the science department at Rockville Centre's South Side High School, she led an effort to explore how to improve outcomes for low-income and minority students. Her work helped contribute to the shift to raise academic expectations for students across all grade levels.
"Now, I try to do the same thing in my own people," said Ms. Lewis, who noted that the overall detracking process was "not easily acceptable to the parents" in Rockville Centre, but that Mr. Johnson calmly stuck to his plan and explained it to community members during contentious public meetings.
"He doesn't get in the way. He knows how to get talent," Ms. Lewis said. "He knows how to support talent."
I truly believe that it is my job not to discover the limits of what a child can do, but actually to give them ways of breaking through those limits.
At the same time, Mr. Johnson is not afraid to acknowledge his missteps.
Early in his tenure, he tried to create separate classes for special education students that used a variation of the regular classroom curriculum. But in that particular instance when Mr. Johnson leaned heavily on data to inform his decisions, the performance of students in those classes was "abominable," he recalled, and the separate classes were scrapped.
"Once you separate them, and put them in different places, they begin to think of themselves as something different," he said of the students.
"You have to learn from your past experience. You have to be able to say, 'I made a mistake' and go back and relearn what you thought you knew well some time in the past," Mr. Johnson said. "You try to balance it by surrounding yourself with people who are better and smarter than you are."
Coverage of leadership, expanded learning time, and arts learning is supported in part by a grant from The Wallace Foundation, at www.wallacefoundation.org. Education Week retains sole editorial control over the content of this coverage.
A version of this article appeared in the February 25, 2015 edition of Education Week