By guest blogger Esther Wojcicki
What does it take to get students interested in learning entrepreneurial skills? I can tell you what doesn't work—teaching to the test, which is
unfortunately is a national obsession today. Testing does not lead to real world skills. In fact, it leads to lack of creativity, according to Sir Ken
Robinson of the famous TED talk.
This is not really surprising information since people learn by doing, not by listening. No one learns to swim by watching swimmers, or to write by
watching someone else write. If we want students to learn entrepreneurial skills they need to practice. If we want to engage them and get them passionate
about learning, give them an opportunity to do an entrepreneurial project of their choice that embeds the skills they need to learn.
Employers and parents want students who are creative, come up with new ideas, and are willing to take risks. Imagine a classroom where student come up with
their own project idea, have educational support from the school, and learn entrepreneurial skills by having to raise funding. That is really possibility
today. Here is an example.
A few years ago, Palo Alto High School seniors Rachel Wilson and Mia Pond; staff members of the student newspaper, The Campanile, wanted something
that than they could get as reporters on the student newspaper. They wanted to be able to write about food, styles, music, and dance and the
newspaper just did not offer those opportunities. It was a newspaper and as such did not run those articles.
So my dilemma as the teacher was how to accommodate their needs while not incurring additional costs for the school (which they would refuse to pay) and
not negatively impacting the newspaper. The basic question was how to keep them engaged. This is what I did.
The students brainstormed and came up with the idea to start a full color glossy supplement to the newspaper and call is C Magazine, imitating the New York
Times T Magazine. They figured all costs could be borne by advertising but had little idea how to do that.
This was a pretty gutsy decision on their part but I as the newspaper adviser supported it. I figured it would give them some important learning
opportunities even if they failed. It was literally the only way to give them this writing opportunity they craved. So they started and this is how they
did it.
Their experience was much like a startup. They had to recruit other students in the class to work with them and sell their idea. There were 70 students in
the class so there were other kids who might want to work with them. This took them more than a week.
Next they had to meet with their team and come up with a concept of a magazine and a plan for their magazine. This took weeks of intense discussion and
planning followed by a session in which they elected editors and gave everyone a title.
Then came the final step: they had to figure out a way to support their idea. They brainstormed about businesses that would be most likely to buy ads based
on which ones teenagers frequented and then they ran a training session (with my help) on how to sell ads. Most teeagers have no idea how to sell anything
but they have lots of experience asking for money from mom and dad. This does not work in the businessworld! Next, they came up with prices for their ads,
made up an ad packet and then sent the staff out to sell advertising. Fortunately, they were successful and so we started the C Magazine.
This was an entrepreneurial experience for all the students on the staff and one that empowered them in ways that other classes never did. The year taught
them more about critical thinking, risk taking, organizing, meeting deadlines than any textbook or video could have. They learned collaboration skills,
managerial skills, and technical skills just to mention a few. These skills were invaluable no matter what profession they chose.
How can schools today incorporate entrepreneurial skills which are so important today in the curriculum when there is so much to teach to meet the testing
requirements? There is not a simple answer. One way is to embed entrepreneurial projects in traditional classes. In social studies or history, for example,
students could decide to write a book, or pamphlet about a local issue and then figure out how to pay for it themselves. That would mean they would be
devoting time otherwise spent in studying to project based learning. That is a decision that the teacher would have to make.
Here are some ideas in the basic subject areas.



Math:
Teach students to use the App Inventor to create Apps that they can possibly sell.



Science:
Develop science projects that help people navigate the world.



Social Studies:
Create books, websites, pamphlets on issues of the day.



English/Journalism:
Create a magazine or website on topics of interest to students.

It would be good if schools could have entrepreneurial electives but that is not happening yet. So, the best way into the curriculum as the moment is to
have students experience one entrepreneurial project in four years of high school. That should easier to fit in to the schedule. Students could learn about
ways to raise money through advertising, through creating a website, or through Kickstarter campaigns. Just exploring the possibilities, teaches students
what is available and what is happening.
Give students an opportunity to be creative, to fail, to recover, to learn communication, language and tech skills as well as to be passionate about a
project---that is what entrepreneurial opportunities offer. Schools nationwide should be exploring this opportunity. See the front page of the student magazine below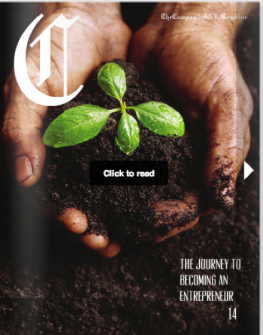 Esther Wojcicki is an American journalist, educator, and vice chair of the Creative Commons board of directors.
The opinions expressed in Vander Ark on Innovation are strictly those of the author(s) and do not reflect the opinions or endorsement of Editorial Projects in Education, or any of its publications.