By Andrew Ujifusa. This post originally appeared on the Politics K-12 blog.
UPDATED
Instead of a school-to-prison pipeline, U.S. Secretary of Education Arne Duncan is proposing that public funds to flow through a sort of prison-to-school pipeline.
In a speech set for delivery at the National Press Club in Washington Sept. 30, Duncan was to push a plan to repurpose $15 billion that states and localities currently spend on correctional facilities. The idea is that they could save that much by by redirecting half of their non-violent criminal offenders away from prison, and instead spend that money on pay hikes of over 50 percent for teachers working in their highest-poverty schools.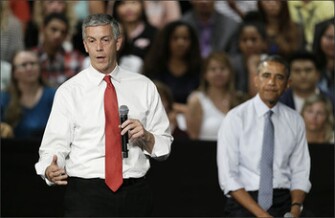 According to calculations released by the U.S. Department of Education, using data from the 2011-12 school year and other federal sources, teachers in 17,640 schools would qualify for this pay raise. The redirected $15 billion would be a 21 percent reduction in state and local spending on correctional facilities, according to the department, and a 56 percent increase for the $26.9 billion in salaries in those high-poverty schools.
"With a move like this, we'd not just make a bet on education over incarceration, we'd signal the beginning of a long-range effort to pay our nation's teachers what they are worth," Duncan said in his prepared remarks. "That sort of investment wouldn't just make teachers and struggling communities feel more valued. It would have ripple effects on our economy and our civic life."
What's not in Duncan's plan? Teeth. The secretary's proposal is just that--it has no way of ensuring that the $15 billion would actually be shifted from prisons to schools.
UPDATE: In a question-and-answer session after his speech, Duncan said that it's too early for any state or locality to have agreed to pursue what he's proposing. But he stressed that there's "emerging bipartisan support" for making significant changes to the current criminal justice system.
Duncan also said that he's interested in bold solutions to break the link between underfunded and inequitable educational systems that produce more high school drop-outs, and the mass incarceration policies that hit those drop-outs particularly and unfairly hard.
"Do you want to tweak it around the edges, or do you want to do something transformational?" Duncan said.
The department's calculations don't include how many teachers would experience a salary increase.
Obama Administration Priority
Duncan's prison-to-school proposal fits neatly into President Barack Obama's recent push to highlight what he thinks are problems with the criminal justice system.
Obama, for example, recently appeared in a documentary by Vice about prisons, and in July became the first sitting president to visit a federal prison. That same month, he commuted the sentences of 46 non-violent drug offenders serving time in federal prisons. Incarceration rates in federal prisons have fallen for the first time in three decades.
That focus on criminal justice has also extended to education issues. In 2011, for example, the administration launched the Supportive School Discipline Initiative, which was designed to address the school-to-prison pipeline by changing discipline policies that the Education and Justice departments said create a large number of referrals from schools to the criminal justice system.
Last year, my coworker Evie Blad wrote about new discipline guidance from the Education Department designed to address inequities in how schools' policies were applied to different racial and ethnic groups. Former Attorney General Eric Holder said at the time the new guidance was released that schools should address "exclusionary" policies in which many students are suspended or expelled for non-violent incidents, helping to feed the school-to-prison pipeline.
Duncan touched on these issues also, saying that until American acknowledged that "poor black and brown children" can contribute to society and give them better-paid teachers and more chances in life, the current prospects for those students who are unjustly robbed of an education will continue to be very dim.
"When we bet on the transformative power of great teachers, we cannot lose," he said.
The American Civil Liberties Union called Duncan's plan a "wise prescription" that "will help break this chain once and for all." And the American Federation of Teachers President Randi Weingarten responded to the $15 billion proposal in part by highlighting her union's Racial Equity Task Force. Weingarten also took the opportunity to call for a new focus "on engaging students rather than just testing them."
The interest in these issues isn't confined to Washington, however. Evie also wrote about a law signed by Illinois Gov. Bruce Rauner, a Republican, earlier this year that is designed to limit suspensions and expulsions. The original legislation faced opposition from the state principals group, which later shifted to neutral after the bill was altered.
In addition, the 2013 edition of Quality Counts from Education Week focused on schools' approaches to discipline.
Photo: Joined by President Barack Obama, U.S. Secretary of Education Arne Duncan speaks during a town hall meeting at North High School in Des Moines, Iowa. Charlie Neibergall/AP
A version of this news article first appeared in the Rules for Engagement blog.