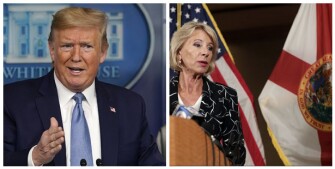 If you're looking for fans of how President Donald Trump and U.S. Secretary of Education Betsy DeVos have handled the coronavirus pandemic, the nation's K-12 education workforce probably isn't the best place to look. And overall, their opinion of governors has also taken a turn for the worse, although there's considerable variation between states.
New Education Week survey results published Tuesday find that two-thirds of the educators surveyed said they have a less favorable view of DeVos due to her response to the pandemic, while less than 5 percent said they had a more favorable view of the education secretary. That's a big increase in disapproval of DeVos from April, when EdWeek asked educators the same question about her.
The numbers for Trump are better, but not by much: More than 60 percent of educators said their opinion of Trump had grown worse due to his approach to the coronavirus. (The survey didn't ask educators about Trump in April.) Here's the visual breakdown of those numbers:
The new survey was administered to a nationally representative sample of 1,366 educators (242 district leaders, 251 principals, and 873 teachers) on July 22-23.
The president's standing among educators has never been particularly high: 29 percent of teachers voted for Trump in 2016, according to a 2017 EdWeek survey, while 50 percent voted for Democratic nominee Hillary Clinton. The same survey also found that DeVos was less popular than her boss.
This month, amid ongoing concerns about the nation's tottering economy, Trump has repeatedly demanded that schools open their buildings and hold in-person classes to start the academic year, threatening (without any real power behind it) to withhold education aid from those that don't and accusing Democrats of seeking to keep schools shut. However, he recently said that schools in coronavirus "hot spots" might need delay holding face-to-face classes.
Meanwhile, in the first phase of the pandemic, DeVos gave guidance to schools on several policy issues and got kudos from the education community for letting states cancel annual federally mandated tests. But she has joined Trump in pushing for schools to physically reopen in recent weeks, saying that children will suffer immensely if they do not return to in-person classes—despite her previous advocacy for virtual learning—and minimizing the health risks that open schools pose.
The Trump administration's political strategy for addressing education during the pandemic has contributed to a backlash from many educators who believe there's a lack of leadership from Washington and elsewhere.
That belief extends to governors to a certain extent, although the shifts in their views in recent months depends significantly on which state you're talking about. (Although respondents hailed from the District of Columbia and every state except South Dakota, 16 states attracted enough survey respondents to break out the results individually.)
From April to July, the share of educators who said their views of their governor have grown less favorable due to the state's coronavirus response increased from 17 percent to 35 percent. And the share of those whose views had become more favorable declined from 57 percent to 39 percent over the same time frame.
However, in Michigan and Pennsylvania, two of the three states Trump depended on to beat Clinton in 2016, the majority of educators said their opinions of the Democratic governors there (Gretchen Whitmer and Tom Wolf, respectively) had become more favorable; the picture is more mixed in the third state, Wisconsin.
Meanwhile, half of respondents in Ohio said their views of Gov. Mike DeWine, a Republican, had become more favorable, compared to just 28 percent who said their opinions had become less favorable.
Click here for more results from Education Week's survey about issues like distance learning and mask requirements.
Photos from left: President Donald Trump during a coronavirus task force briefing at the White House (AP Photo/Evan Vucci); U.S. Secretary of Education Betsy DeVos in Coral Springs, Fla., in 2018 (Lynne Sladky/AP); diptych by Andrew Ujifusa for Education Week