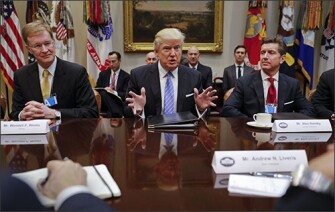 Career and technical education advocates have started their push for a facelift to the Carl D. Perkins Career and Technical Education Act under President Donald Trump.
On Thursday, a coalition of 85 advocacy groups and businesses, ranging from AASA, the School Administrators Association, to Boeing and IBM, sent a letter to the four leaders of the respective House and Senate CTE Caucus urging them to make career and technical education a priority.
"As we consider how federal policy proposals can achieve President Trump's promise to 'make America great again' we urge Congress to support the Perkins Act and allocate adequate resources to ensure our country's CTE programs can take full advantage of a newly reinvigorated CTE law," says a portion of the letter, which was written to Sen. Tim Kaine, D-Va., Sen. Rob Portman, R-Ohio, Rep. Jim Langevin, D-R.I., and Rep. Glenn Thompson, R-Pa.
CTE advocates also held a briefing at the U.S. Capitol last week to discuss their issues under a new president and new session of Congress. At around the same time, Democrats put out their own $1 trillion infrastructure spending plan, which included $75 billion allocated to school construction.
"We know that there are critical shortages of skilled workers in a lot of the areas that would be necessary to implement a lot of the ideas that are coming out of both the administration and folks on the Hill," said Alisha Hyslop, the director of public policy for the Association for Career and Technical Education.
The letter was sent a few days after Trump met with several business CEOs at the White House. Trump emphasized in remarks at the meeting that he was urging companies to keep jobs in the U.S. and not outsource them to other countries. "All you have to do is stay," Trump said to the executives, according to the Associated Press. That stance could lead to greater opportunities for CTE advocates, although Trump hasn't spelled out his specific policy preferences for the issue.
Last year, the House overwhelmingly voted to approve a bipartisan reauthorization of Perkins, which is overdue for an overhaul and was last reauthorized in 2006. The bill would have altered the definition of those students considered "concentrators" in CTE, allowed states to withhold more federal funding for their own competitive grants and formulas, and permitted the education secretary to award grants to states aligning such programs with their individual workforce needs. But a companion Senate bill to reauthorize Perkins stalled after fighting between Democrats and Republicans about the proper role of the education secretary.
The new chairman of the House education committee, Rep. Virginia Foxx, R-N.C., used to lead the subcommittee that dealt with workforce training.
The CTE coalition letter notes that from fiscal years 2007 to 2016, Perkins grants to states declined by $170 million. Education funding in general faces an uncertain future under the Trump administration and GOP-controlled Congress.
"We're hopeful that any new investment in infrastructure would be coupled with an investment in training, to allow individuals to enter those fields," Hyslop said.
Sen. Tim Scott, R-S.C., asked education secretary nominee Betsy DeVos about how to improve CTE programs during DeVos' confirmation hearing last week. DeVos responded, "There's really a wide variety of alternative pathways to a really great future," but didn't offer more detailed thoughts on effective approaches to CTE.
Read the letter from the 85 groups to the CTE Caucus in Congress.
Photo: President Donald Trump speaks while hosting a breakfast with business leaders in the Roosevelt Room of the White House on Jan. 23. At left is Wendell P. Weeks, Chief Executive Officer of Corning, at right is Alex Gorsky Chairman and Chief Executive Officer of Johnson & Johnson. (Pablo Martinez Monsivais/AP)