Teacher dissatisfaction is real.
After the 2021–22 school year, teachers in eight states left the profession at their highest rate in at least five years. Many more considered quitting. According to the Merrimack College Teacher Survey, a nationally representative poll of more than 1,300 teachers conducted by the EdWeek Research Center in January and February of 2022, 20 percent of respondents said they were "very likely" to leave the teaching profession within the next two years, and 24 percent reported being "fairly likely" to do so.
Not all recent news about the teaching profession is negative, though. Researchers meeting at theAmerican Educational Research Association annual meeting earlier this month reported that 53 percent of the undergraduate education majors they followed in surveys and focus groups in 2021 said they received encouraging messages about the teaching profession from people they respect, like family members, friends, or former teachers.
What neither set of statistics offer is detailed information on why teachers depart, what they miss about teaching, and what, if anything, could have made them stay.
Those details can only come from the teachers themselves who chose to leave.
Three former educators with more than 40 years of combined teaching experience gave the lowdown on why they left the profession and where they are now. While their experiences are more anecdotal, here's some of what they had to say.
Why they leave: a growing list of frustrations
Former Florida elementary teacher Zachary Long didn't simply leave the teaching profession after seven years on the job. He now helps others do the same. Long and his wife Brittany in 2019 co-founded Life After Teaching, an online community of over 80,000 teachers considering leaving the classroom for other careers. What started as a passion project evolved into an income-generating initiative that offers paid products. It got a big boost in the summer of 2022 when it was chosen by Meta to participate in the Facebook Community Accelerator Program, which helps online community leaders grow their impact and sustainability through training, coaching, and financial support. Long routinely communicates with teachers and former teachers who share anecdotes about why they leave the classroom. He, in turn, revealed some of the most common complaints teachers tell him are pushing them out of classrooms.
Multiple reasons rise to the top of the list. Student behavior is a leading complaint Long hears from teachers who contemplate or leave teaching, and one he believes is among the hardest to address. "I don't think anyone has the answer," said Long, referring to accounts of extreme student behavior targeting teachers that has resulted in physical or emotional harm that he's heard.
Out-of-touch administration also ranks among the top reasons teachers tell Long they quit, or plan to."There's some amazing stories about administrators not being qualified or not knowing how to work with teachers in a way that's beneficial. Stories upon stories about that," said Long, who taught most recently in Lake Weirsdale, Fla.
Pay, which some might expect to top teachers' reasons for wanting to quit, is also cited often, according to Long. And it seems to be the tipping point—not the primary complaint.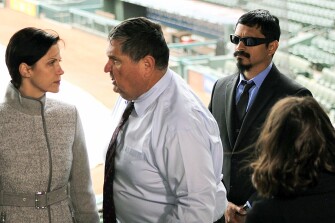 Such was the case for Beau Thompson, a 63-year-old educator-turned-professional actor, writer, and aspiring film director whose salary topped out at $58,000 in his 30th year as an educator in Texas, most recently in Waxahachie, Texas, where his various titles included the following, often simultaneously: athletic director, head football coach, Advanced Placement social studies teacher, and department head.
Thompson listed several gripes about Texas's educational system and its leaders. He referred to the educational system as out of date, noting its development during the Industrial Revolution. He said he feels that his state's educational leaders are more concerned with obtaining a 100 percent graduation rate than whether students are actually learning.
He also pointed to a lack of autonomy for teachers, mentioning that administrators interfered with how he taught history, even before Texas enacted HB 3979 in 2021, which limited discussions of race and history from classrooms. "They didn't want me to spend a lot of time on Martin Luther King [Jr.] or the Civil War," said Thompson.
The 'last straw'
While former teachers expressed varied stressors and frustrations about their jobs, not being able to effectively balance work and family life often served as the proverbial "last straw"a lot of the time.
Long describes his own reckoning with these circumstances: "For me, it came down to this: My wife had a health crisis. At the time, I was working 60-plus hours a week. During summer, I worked a part-time job. I realized that I had to make a choice: Do I want to spend more time with my family, or all my time teaching and working?"
Vicky Weber taught elementary music and STEAM in Lake Bluff, Ill. for six years before becoming a best-selling children's author. It wasn't until she became pregnant and went on maternity leave from her teaching job in April 2021 that she decided to leave the profession.
"I realized I could not be the mom my daughter needed me to be if I stayed in teaching. The hours were going to be too long," she said. "I asked myself: How would I have the patience? How would I have the energy?"
The pandemic didn't help, either. Weber made clear that she worked at a supportive, well-funded district.
"But even with all those factors, with remote learning I was essentially doing three full-time jobs," she said. Weber was, in her words, "shoved into a 4th grade co-teaching position" while teaching music remotely and serving as on-call tech support for the whole school—with no extra pay.
Next steps
While there's no data that tracks the career trajectory of teachers once they leave the profession, some of the industries Long has seen teachers pivot toward most frequently include instructional design, corporate training, communications, and educational technology. But teachers' expansive skill set could lead them in many directions, Long observed.
"Teachers create content constantly," Long said. "Not only that, they create content that not only is attractive, but can effectively get across the message they need to … As a business owner in the online space, this was the strong foundation for many of the skills I use now on a daily basis."
Long added that teachers are expert communicators, planners, problem solvers, and collaborators.
"You can go on and on down the list," he said, referring to the transferable skills teachers possess. As Weber's and Thompson's career shifts demonstrate, a teacher's skill set also can transfer to less-common careers.
Weber, who had been writing children's books on the side while she taught, published her first one in January 2020, Lazlo Learns Recorder. What became, as she put it, "a little bit of a side income," eventually became much more.
"Things took off during the pandemic," Weber said. "I became a best-selling author, and had Disney reach out to me." Subsequently, Weber penned a book version of the Disney movie, "Encanto." To date, Weber said she's had 19 children's books published, all of which have been big sellers.
Thompson, the teacher turned full-time actor, explained some of the ways he draws on his former profession in his current one. Perhaps the most obvious way is knowing how to entertain an audience, something that Thompson said he did routinely as a teacher attempting to make history interesting to students.
He also leans on his former experiences to get into character. "All the different kids I've gotten to know and parents; as an actor, that's your library resource," he said. "If you have to play a certain role, you can find that reference."
Thompson also brings to his new career what he referred to as the teacher and coach work ethic. "I'm used to getting up, having a checklist. People are shocked by how much I'm doing," said Thompson, who rattles off a number of upcoming acting and script-writing projects he's working on. "I work every single day."
What they miss
The other common factor that the former educators say stays with them since leaving the profession: the students.
"I still miss working with the kids," Long said. "I don't help kids now, but I help a much bigger audience."
Thompson echoes that sentiment. Asked what he missed about teaching, he responded: "The kids, absolutely without a doubt. They're what kept me in it."
"But," he added, "I wouldn't go back for any amount of money."
Using an acting metaphor, Thompson reflected on the state of the teaching profession as he sees it. "We [teachers] are put in a villain role," he said. "But teachers need support. There's a lot of bitter teachers out there."